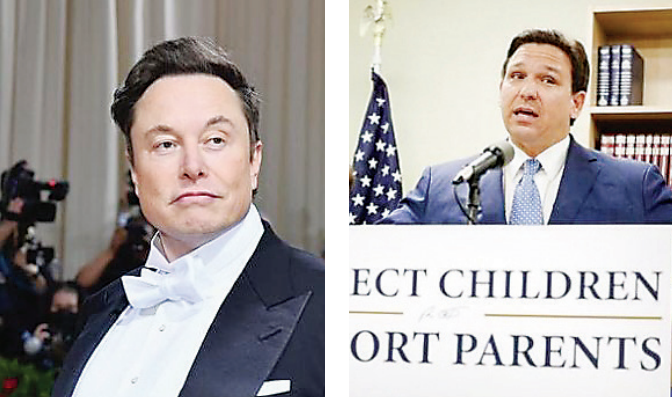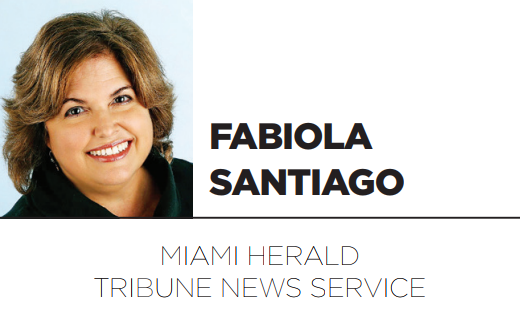 This is your weekly Florida Gov. Ron DeSantis Watch.
This segment stars billionaire Elon Musk — and the sick, racist joke by DeSantis that followed the Twitter-generated news of Musk's premature predilection for DeSantis  as the 2024 GOP presidential candidate.
It wasn't exactly an endorsement, but the Twitter conversation between Musk and a person from a Silicon Valley Tesla owners club using the Twitter handle @TeslaownersSV became widely followed news.
Musk, a Texas voter, tweeted: "I voted for Mayra Flores — first time I ever voted Republican. Massive red wave in 2022. "
@TeslaownersSV asked him: "I assume republican for president 2?"
Musk: tbd [To be determined]
@TeslaownersSV pressed: What are you leaning towards?
Musk: DeSantis
In the same breath, Musk, who fancies himself a moderate had just disclosed a preference for a right-wing extremist, went on to write that he was "creating a 'Super Moderate Super PAC' that supports candidates with centrist views from all parties."
I guess you can have it all, play all the sides, in billionaire world.
DeSantis' reaction
The governor, whose presidential ambitions are becoming more obvious every day, is on the 2022 re-election campaign trail.
And it looks like he won't be taking a summer break — not from rabble-rousing and dog-whistling for the voter base, and not from all-around showing off his command of anti-wokeness.
His reaction to Musk's apparent endorsement, when he was asked about it at a press conference in Florida, could've gone many ways. For instance, he could have responded something like:
"I'm focused on 2022... but I'm flattered by the vote of confidence."
But no, what DeSantis came up with was the ugliness we've come to associate with the governor when it comes to minorities: "I'm focused on 2022, but with Elon Musk what I would say is: I welcome support from African Americans. What can I say?"
Huh?
I didn't get the joke.
But I'm not his target audience.
He was putting on a show for the white people consuming what he was dishing at this press conference.
They nodded as he spoke and laughed at his point that Musk was born in South Africa, a country once ruled by a system of institutionalized racial oppression where the white minority ruled over the Black majority.
But they also were laughing at his continued mockery of the Black Floridians whom he seeks to oppress himself, through policy and law; "African Americans" whose support he is not at all interested in cultivating.
Charmless and racist
The stoic face of the token Black man on stage with DeSantis said it all. He didn't find it funny.
DeSantis may have Musk's vote in the bag, but the list of people DeSantis is annoying with his fascism — gays, Blacks, business owners, corporations, academics — and his put-down comments toward Black people and Black history could backfire.
If all these constituencies vote.
Unfortunately, his sick joke is just another day, another week in his Florida.
DeSantis has a long history of appealing to vile feelings in voters.
He has confused Florida parents making decisions about whether to vaccinate young children against COVID-19.
And he has been conspiring to oust "liberal" professors from state universities, and so much more.
What's new, however, is the national backdrop and the mood of Americans starting to wake up to the GOP's one-party rule agenda.
By 2024, the times may not be in DeSantis' favor.
With the January 6 Select Committee hearings showcasing shocking details of his mentor's brash, multi-layered plot to subvert American democracy,  Florida politicians like DeSantis,  who diminished the importance of the Capitol attack, aren't sitting as pretty as they might think.
Florida courts also are becoming a problem for the governor, who is spending millions of taxpayer dollars fighting to defend his anti-Constitutional bids to quash free speech in the state.
Judges are seeing the culture war laws enacted by DeSantis, like his Stop Woke Act, as what they are: affronts to First Amendment rights.
The courts can't do a thing about his use of dog-whistle language, but maybe the voters repulsed by him, and his policies can call him to account at the ballot box.
Fabiola Santiago is a contributor for the Miami Herald.