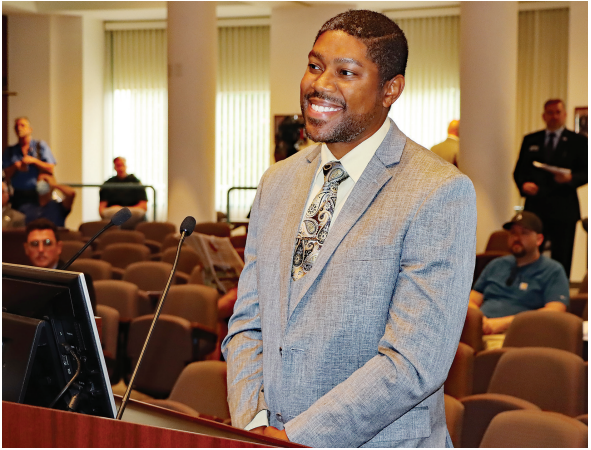 The new head of Volusia County's aviation and economic development operations is a familiar name in Central Florida aeronautical circles.
On June 22, the Volusia County Council unanimously confirmed Orlando Executive Airport Director Cyrus Callum to become director of the county's Aviation and Economic Resources Department. The department oversees the county-owned and operated Daytona Beach International Airport as well as the economic development division.
Callum was picked by County Manager George Recktenwald to succeed the current director, Rick Karl, who retired last month after a nearly 17-year career with the county.
Callum has worked for the Greater Orlando Aviation Authority, holding positions at either Orlando International Airport (OIA) or Orlando Executive Airport since February 2008.
Jacksonville manager, too
Prior to being named director of Orlando Executive Airport and general aviation, Callum served as operations administrative manager and then assistant director of airport operations, landside operations, at OIA.
He also was at the Jacksonville Aviation Authority for about 3½ years, leaving there as airport operations control center duty manager, and before that worked in the private sector as an aviation consultant and an airfield facilities and operations analyst.
As Airport Administrator-Business Development for the Jacksonville Aviation Authority, Callum was responsible for the promotion and development of aviation-related business opportunities at the Authority's four airports. And one of his current duties for the Greater Orlando Aviation Authority is overseeing business development for commercial properties owned by the Authority.
"He comes to us with a great wealth of experience on both the aviation and economic resources side of the business," Recktenwald said of Callum. "We're really fortunate to be able to bring him here to Volusia County."
Council members were equally excited about Callum's hiring.
"It's great to have you come to work for us, and we look for a lot of good things out of you," Councilman Ben Johnson told Callum.
Endorsement from Karl
Callum said he's already familiar with his team and is eager to roll up his sleeves and get to work.
"I think we're going to hit the ground running and do some great things for Daytona Beach International Airport and also economic resources," Callum told the council. "I'm just excited to get to work."
Callum also got a big vote of support from the person he's replacing.
"Cyrus is an amazing executive," Karl told council members. "Congratulations on being able to recruit someone of that caliber. He's going to hit it out of the park."
Callum has been an adjunct professor of aviation management at the Orlando campus of Everglades University since 2009. In October 2013, Callum was named as Top 40 under 40 in Airport Business Magazine.
More recently, he was named 2019 General Aviation Manager of the Year by the FAA Southern Region.