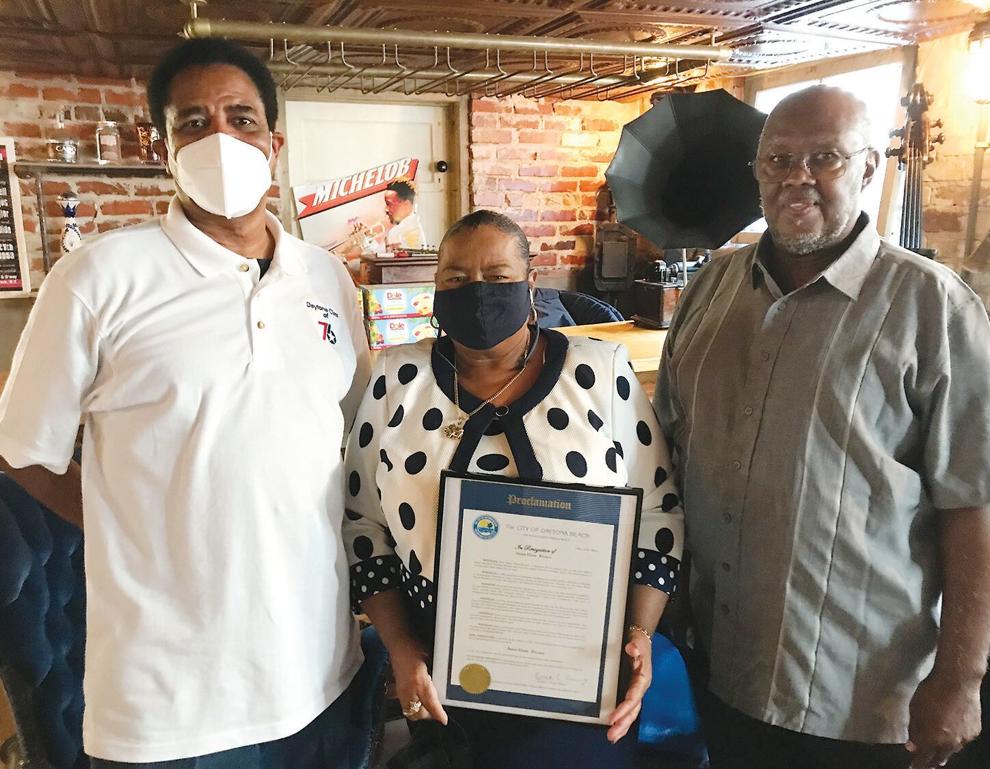 Graduates of Mainland, Seabreeze, Spruce Creek high schools and Father Lopez Catholic High School of 1976 came together for a reunion on Sunday, Aug. 22, at the Hunt House in Daytona Beach.
The classes also took the time to honor one of their own, Janet Elam Bryant, with a Lifetime Achievement Award during a reception that day.
Bryant is a graduate of Spruce Creek High's Class of 1976. She also earned her bachelor's degree in childhood education from Bethune-Cookman College (now University) in 1982.
"I really appreciate this. I thank everyone. I feel there are so many other people that could have been honored in the community, but I feel so good that my classmates would take the time to honor me," Bryant said.
'Doing a great job'
Bryant is the longtime executive director of the Rose Marie Bryon Children's Center, where she has worked for more than 30 years.
The center is the oldest after-school children's program in Daytona, starting in 1948. The current structure was built in 1967 and opened in 1968, giving it a permanent home.
Bryant's classmates just saw it fitting to honor Bryant for her work with children in the community.
"We really wanted to honor Janet. She has run that center so long," said Ricky Scott, a graduate of Seabreeze High School and a member of the reunion planning committee. "We wanted her to get her just due while she is still here. She's doing a great job."
'Often gave her last'
Bryant's former students attended and also spoke highly of her.
Bichicka Hines is Bryant's goddaughter and a former student. She also worked at the center under Bryant.
"She always welcomed anyone. She became my godmother. It's an honor to call her godmother," Hines said. "You could tell her anything and she wouldn't tell anybody. She often gave her last to the children whether it was buying food and clothes, cooking meals, doing laundry and more."
Bryant has no plans to stop working at the center or with children anytime soon. Since 2011, the Rose Marie Bryon Children's Center has been fully staffed with volunteers.
"I keep going because of the faces of the children. I know they need to be there," expressed Bryant.
Meeting children's needs
The center is also dealing with the COVID-19 pandemic.
"We may not be able to open up the building for the children due to COVID and the size of the building, but we make sure meals go home to the children. We did it every day during the summer," Bryant said. "We will continue to work, maybe weekly or on weekends."
Bryant is the goddaughter of Rose Marie Bryon, for whom the center is named.
Bryon was a longtime educator who advocated for equal pay for Black teachers. She built the center that bears her name in 1946. She also organized the first Halloween party at the Cypress Street Recreation Center.
Byron raised a daughter and 30 foster children. She died in 1991 at the age of 84.
"I moved into her home in the fourth grade. My mom let her raise me. Once I moved into her home, I became her god-daughter," Bryant shared.
Donation to center
After the banquet honoring Bryant, the Class of '76 enjoyed the evening with food, beverages and music by deejay Heavy.
In addition, the Class of 1976 also donated funds to the Rose Marie Byron Children's Center.
Participants raved about the event, even during the pandemic.
"We didn't want to miss out on this opportunity," Scott said. "We didn't want the pandemic to stop us from honoring or classmate or coming together."