SPECIAL REPORT
Parents tell how the virus is still impacting their kids who attend local public schools.
Editor's note: Through a series of stories, the Daytona Times is exploring how the pandemic has impacted the K-12 public school system in Volusia County and specifically Black children in the 32114 zip code.
Despite schools, businesses and government services beinfsopen and operational, the coronavirus pandemic continues as cases, hospitalizations and deaths advance.
The Daytona Times looks at COVID-19's impact on schools in the 32114 zip code and beyond.
The Volusia County School District's COVID dashboard had 539 positive cases; 392 of those cases are students and 147 employees in November 2022. The dashboard is updated twice a week. Additionally, 579 quarantines took place. Those impacted included 429 students and 150 employees as of the Daytona Times' Wednesday deadline.
For the 2021-22 academic year, there have been 6,412 COVID cases with 1,765 employees and 4,647 students impacted. There were 7,373 quarantines, which included 1,825 employees and 5,448 students.
The report also shows 2021-22 numbers at the schools in the 32114 zip code: Palm Terrace Elementary (16 cases, 17 quarantines), Turie T. Small Elementary (27 cases, 31 quarantines), Campbell Middle (41 cases, 65 quarantines) and Mainland High (102 cases, 103 quarantines).
Daytona resident Katienna Brown and her 7-year-old daughter, Maachaiah Brown, who is a second grader at Palm Terrace, had the virus in September.
Times, "My baby girl had it first, then I caught it. It was right around the time of Hurricane Ian. I couldn't even prepare for the storm."
The virus hit Brown very hard but, fortunately, didn't hit her daughter as hard.
"There hasn't been changes to her education, but she is very cautious. She is one of the few kids wearing a mask," Brown explained. "She probably feels peer pressure not to wear one. Most kids don't wear them.
"As for me, the mental aspect almost took me out. I thought I was leaving here. I am still dealing with the effects. I already had breathing problems. The hurricane knocked out the power for five days and we had no air conditioning, which made it worse for me. My daughter wasn't as sick."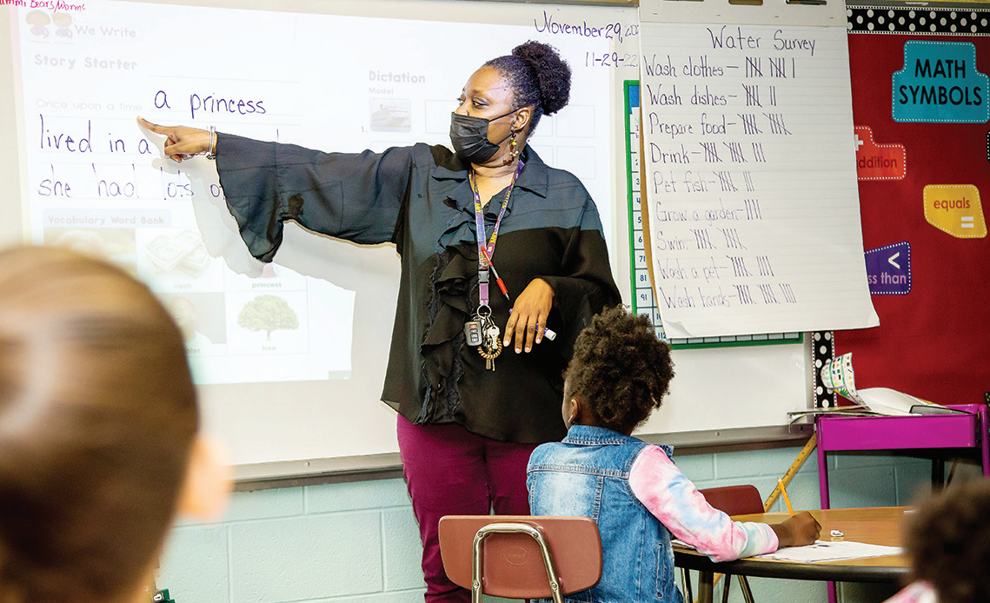 'Play ing catch-up'
The beginning of the pandemic did have an impact on her children's education.
Brown's daughter, Maachaiah was in kindergarten at Palm Terrace when the pandemic started.
Her oldest daughter, Anastashea, 17, now attends Mainland High and her son, Malik, 15, attends Atlantic High in Port Orange. The two oldest were at Campbell Middle when COVID first struck.
"They went to online learning at first. It was ineffective. They were more concerned about going to school and how dangerous that was. I think it put them at a disparity. I don't feel they are as far along as they should be and are playing catch-up," Brown said.
"The youngest was hurt the most. She didn't get the socialization and learning how to deal with others. She did well academically, but with virtual learning there was no environmental control."
Daytona resident Erica Gardener also saw the effect the virus had on her children's education.
Her middle son, Kristian Joseph, now attends Spruce Creek High in Port Orange but was at Campbell Middle when coronavirus broke out. Also, her youngest son, Leneryk McGregor, is now in the fourth grade at Turie T. Small but was in the second grade in 2020.
Her eldest son also fell behind but was able to graduate from Spruce Creek in 2021.
"My kids fell behind in class. Leneryk got used to staying up late; he did the paper packets first, then went online. It was like a big holiday break for him. Kris got really lazy. he also lost contact with a lot of his friends," Gardener said. "It was also tough when they returned as many kids were getting COVID and they had to adjust to social distancing in schools."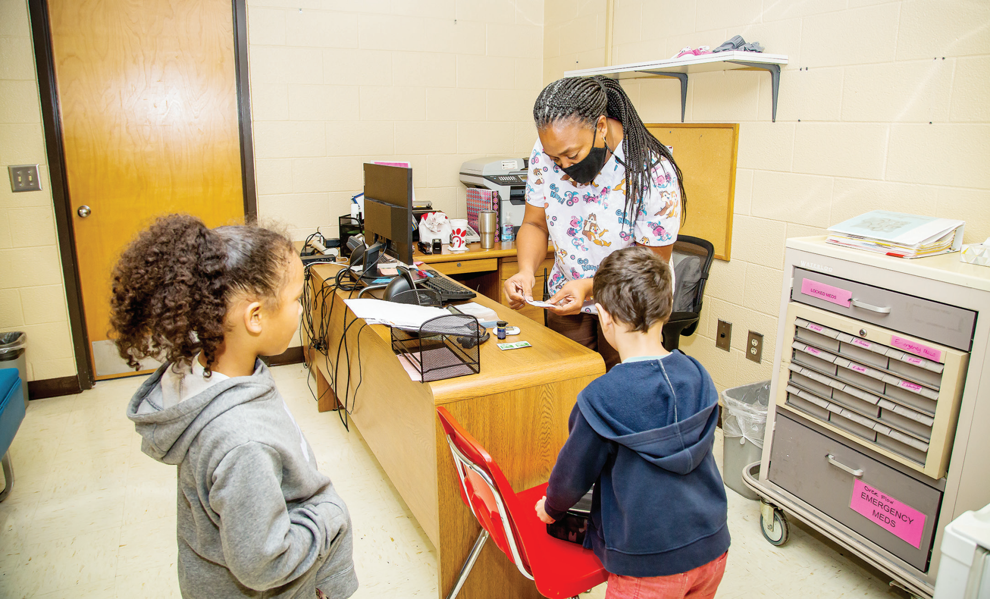 'Took away the norm'
Even educators can't deny the impact COVID had on education.
Arthur Westbrook, an Exceptional Student Education (ESE) teacher, is also an assistant coach for the boys' basketball and football teams.
"It was a big effect. It took away the norm. It was more mental. It first took away face-to-face education and kids being in a classroom with a teacher. Teachers couldn't get in front of them," commented Westbrook.
"Then when classes resumed, we often had to instruct from behind a shield and keep distancing. Kids couldn't raise their hands and have a teacher come over and help. We had to sanitize and wipe everything down between classes."
Teachers also noticed the slip in academic performance.
Westbrook admitted, "Yes, there was definitely a slip in academic performance across the board with most kids. COVID once again took away the norm. Also, most kids aren't good with change."
The school system took measures to help kids get back on track.
"During virtual learning, I called the parents and even made house calls. I would stand outside of homes asking if kids needed help," Westbrook said.
"When classes resumed, we offered help by providing extra time after school  and during lunch. We did have some kids who wouldn't stay after school because they ride the bus."
Stacy Beckton Sr., a paraprofessional at Mainland, also reflected on COVID's impact on learning.
"I think there was a decline in academics at first. I don't think the kids took it seriously. It did get a little better when kids got back into the classroom. Those that stayed home also had a teacher that kept up with them more,'' Beckton noted.
Changes at home
Parents also worked extremely hard to get their children's education back up to speed.
"I started making them go to bed earlier, do homework or study after school. I also talked to them about the situation, that it was a pandemic and not them," responded Gardener.
Brown added, "We did a lot of extra credit. For my youngest, we did a lot of Khan Academy and online stuff, particularly with reading and math. Anything to supplement her education as much as possible. I tried, too, with my older ones, but it was harder to stay on them."
The Florida Department of Education also found a way for every child to graduate high school with a vigorous way to make up grades and courses.
Meanwhile, people continue to deal with the COVID-19 pandemic even while locally, we recover from a hurricane and tropical storm that hit just weeks apart.
"It's the feeling that you are still dealing with it. You hear people say it's over but people are still catching it. It's still out there. You still must be cautious and mindful almost two years later," said Brown.
Gardener added, "I am still concerned. I am hearing about it. I still send my kids to school with hand sanitizer and wipes in my kids backpacks. Also, we are dealing with hurricane recovery. I had to relocate because the storm flooded our place."
Reporting for this story is possible through a Black Press grant from the National Association of Black Journalists.