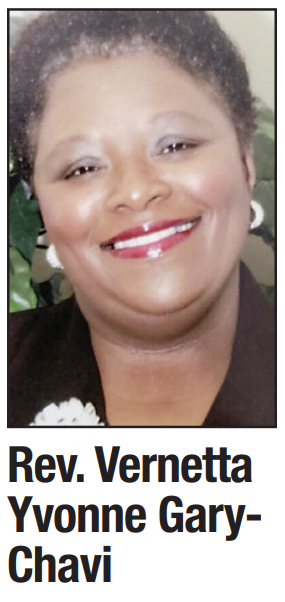 The Rev. Vernetta Yvonne Gary-Chavis, a Daytona native and one of the first interns to land a permanent job from then Bethune-Cookman College's newly instituted internship program, died on Sept. 18. She was 68.
Vernetta Yvonne Gary, known as "V.G." to family and friends, was the second of six children born to the late Charles, Sr., and Alfreda Moore Gary in Daytona Beach. 
As a young girl, she lived with her family in the Palmetto Park housing development on Hawk Street. Every day for years, she and her siblings would help their mother deliver the Daytona Beach News-Journal to its subscribers who lived in Daytona Beach's Black community.
Volusia education
Gary was educated in the Volusia County school system and graduated from Mainland Senior High School in 1971. She went on to attend Bethune-Cookman and graduated 1975, earning a Bachelor of Science degree in business administration.
As an outstanding student, she was selected as one of the initial interns of a new internship program initiated by BC-C president Dr. Richard V. Moore and supervised by Daytona Times founder Charles 
W. Cherry, Sr. Gary was one of Cherry's best pupils. He taught business administration and other classes at B-CC at the time.
Because of her high performance as an intern at NASA's Kennedy Space Center, Gary earned a full-time job there as a contract specialist and went on to have a successful 35-year career with NASA.
During that time, she met and married Horace "Doc" Chavis and became known as Vernetta Yvonne Gary-Chavis. The two went on to have two daughters, Angeleah and Mia.
Ordained and sang
In 1997, Chavis was ordained by the Church of the Living God, Inc.'s Florida Atlantic Diocese under the supervision of the late Bishop Dr. L Dolores Ward, pastor and presiding prelate of Emmanuel Church of the Living God.
She was an active leader and member of the church through the 1990s and early 2000s. During this time, she also tapped into her own creativity and became a singer and songwriter, recording several gospel compositions.
In 2008, Chavis joined her older daughter Angeleah and completed her graduate education, earning a Master of Business Administration degree from the University of Phoenix.
In 2020, under the leadership of Elder Anthony M. Graham, she joined Lifeway Church in Daytona Beach, where she was a member until she died.
Her family
Gary-Chavis's mother, father, husband, two brothers and grandparents all predeceased her.
She is survived by her two daughters, Angeleah D. (William McCray, I) Chavis- McCray and Mia L. Chavis; two grandsons, William Ryan McCray, II and Aaron Chavis McCray; three siblings, Lewis J. Green, Katherine (Anthony B. Chester Sr.) Chester, and Lyndon L. Gary; three nieces, Tamu K. (Frederick) Talton, Crystal Marie Chester, and Stephanie Lee Gary; two nephews, Anthony Bernard Chester, II and John Charles Chester; four great-nieces, Noemi S. Talton, Jendaya K. Talton, Tarina Rachel Marie Anderson, and Anari Simone Jackson; two great-nephews, Osei C. Talton and Giovanni Mirage; and a large network of extended family and lifelong friends.
A homegoing service was held on Oct. 2 at Daytona Deliverance Church of God with Pastor Susan A. R. Graham officiating. Interment was at Greenwood Cemetery, Daytona Beach. Herbert Thompson Funeral Home, Inc. was in charge.