BY ANDREAS BUTLER
DAYTONA TIMES
Daytona resident James F. Daniels has published his first book, a memoir titled "Metamorphosis: From Cotton Picker to Community Leader.''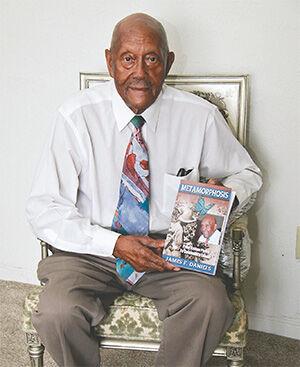 The book details the 88-year-old's experiences growing up in the Jim Crow South, his family sharecropping during the Great Depression and overcoming barriers of race and class.
"My life experiences disciplined me. I thought that when grownups or Whites told you to do something that you were supposed to do it. I was comfortable in my ignorance. I thought everyone lived like us. We had nothing to compare it with," Daniels told the Daytona Times.
Oct. 5 book signing
He will discuss his story at 7 p.m. Wednesday, Oct. 5 at the Daytona Beach Regional Library (City Island) located at 105 E. Magnolia Ave. The Friends of the Daytona Beach Library is sponsoring the free event. A book signing will follow.
"I thought that I had a story to tell that would be interesting. So far it has been proven to be true, "Daniels said. "I want people, especially youngsters, to know what we went through to make things easier for them. They often take things for granted. It took a lot of blood, sweat, tears, hard work and hardship."
Local NAACP pioneer
Daniels has worked with the NAACP and helped to start the Volusia County/Daytona Beach branch.
He has worked with other local organizations to improve the lives of others.
"I started working with the NAACP way back when I was in Tallahassee. When I moved back here in the later years, I got the charter for the first local chapter, the original Volusia County chapter.
There was a need. We met in the basement of Mt. Bethel Church in Daytona. Later, Ormond, DeLand, New Smyrna and Daytona got chapters,'' Daniels noted. "I also got Project Upgrade, the application for the community action program. Without it, you wouldn't have programs like Head Start, drug treatment centers and others."
Born on plantation
Daniels was born in 1928 in Cordele, Georgia on a plantation to sharecroppers and descendants of slaves. His parents had 13 children.
"I didn't sleep in a bed until I was 11 years old. We slept on a pallet. For those who don't know, it's a padded place on the floor. We had 18 to 20 shacks where laborers live while the plantation boss lived in the big house," he explained.
"We picked cotton. We started at the first light of day. We had a commissary where we got food and clothes. My dad was only paid once a year in September. That's when they added the family's labor for the year to see whether you earned or owed money. We mostly cleared. Dad often made $4.50 a year. It was a lot. A gallon of gas was 12 cents and a pound of bacon was a nickel. We were thrifty.
We had our own garden and raised chickens," Daniels recalled.
Everyone worked
Later, the family moved to another plantation and picked peaches.
Daniels remembers, "It was better than cotton. We found ways to save money. Dad was paid 25 cents per hour there while kids got 15 cents. The smaller kids got 10 cents per hour. We paid $1.50 a month to rent the house we lived in, which was owned by the plantation owners. We were able to take home all the peaches that were on the ground. We made peach wine, peach cobbler, peach stew, peach pie, and all kinds of stuff. We thought we were doing alright."
Daniels remembers the creation of Social Security.
"It was a big problem at first. Blacks and Whites opposed it. Nobody wanted a penny taken from their pay. We thought they were going to take our pennies and give them to Whites. Nobody understood how they were going to keep up with our pennies. If they tried to stop it now, it would be a bigger fight. Too many depend upon it as their only income and retirement," Daniels mentioned.
Campbell, then college
In 1939, when he was 11, his family moved to Ormond Beach.
"My dad's sister lived in Ormond and encouraged us to come. Daddy built an SUV out of a Ford Model T. Sixteen people were on board. We had our chickens and everything of value,'' Daniels said.
In Florida, Daniels attended school more often.
"On the plantations in Georgia, we hardly attended school. The only education we got there was in church. In Ormond, I attended the Rigby school; the only colored school there. It went to the 10th grade, then you got your certificate. After school, I tried to attend college but couldn't. I had to go back to Daytona and attend Campbell up to 12th grade. I finished there in 1952."
Later he would go on and attend Florida A&M (1952-54) in Tallahassee.
Bell hop, caddy, counselor
As a teen, Daniels worked in the hotels along the beach in Ormond.
"I bell-hopped a lot. I worked the Old Ormond Hotel, Coquina, Riviera Princess Anne and Sheraton Plaza. I even traveled to Northern cities during some summers to work hotels. I picked potatoes, threw newspapers and caddied at golf courses. I even caddied for famous LPGA golfers like Babe Dickerson, Patty Berg and others," stated Daniels.
Daniels said he received unusual kindness by Whites in Ormond.
"In Georgia, we were called 'Negrolettes' when we were young. We were often considered little animals. Ormond wasn't as bad. In Ormond, people actually treated us like somebody, more like a human being,'' he remarked.
Daniels even worked at Dozier School for Boys in Marianna shortly after finishing college at FAMU.
The school has been plagued with allegations of torture, rape and murder.
"I was a counselor. It was hell. The staff couldn't leave without permission. I quit. They were so abusive to the boys. One boy was beaten so badly one night just for using profanity. Whites and Blacks both got it. It was segregated. White boys raised chickens and rabbits while Blacks farmed.
Whites lived on the other side of the street," Daniels told the Times.
Active in community
Daniels left and went into insurance and real estate. He retired from Atlanta Life Insurance Company and opened his own agency, Daniels and Young Insurance on Ridgewood Avenue with Lilly Young.
"I eventually sold my business and property and retired. I even had a business called SAA Automobile on Second Avenue. Charles Cherry Sr., the founder of the Daytona Times, shared an office with me at one time," Daniels recalled.
He added that he once managed a day care.
Daniels said he volunteers at Florida Health Care, Daytona Beach International Airport, Halifax Historical Society and his church, St. Timothy's Episcopal Church.
He serves on the City of Daytona Beach's Historic Preservation Board and Nuisance and Abatement Board. He formerly served on the city's Midtown Redevelopment Board.
For more information about the library presentation, contact Lorri Davis at ljdavis@volusia.org or 386-257-6036, ext. 16154. No reservations are required to attend.