Local youth tour Daytona State College, get inspired for the future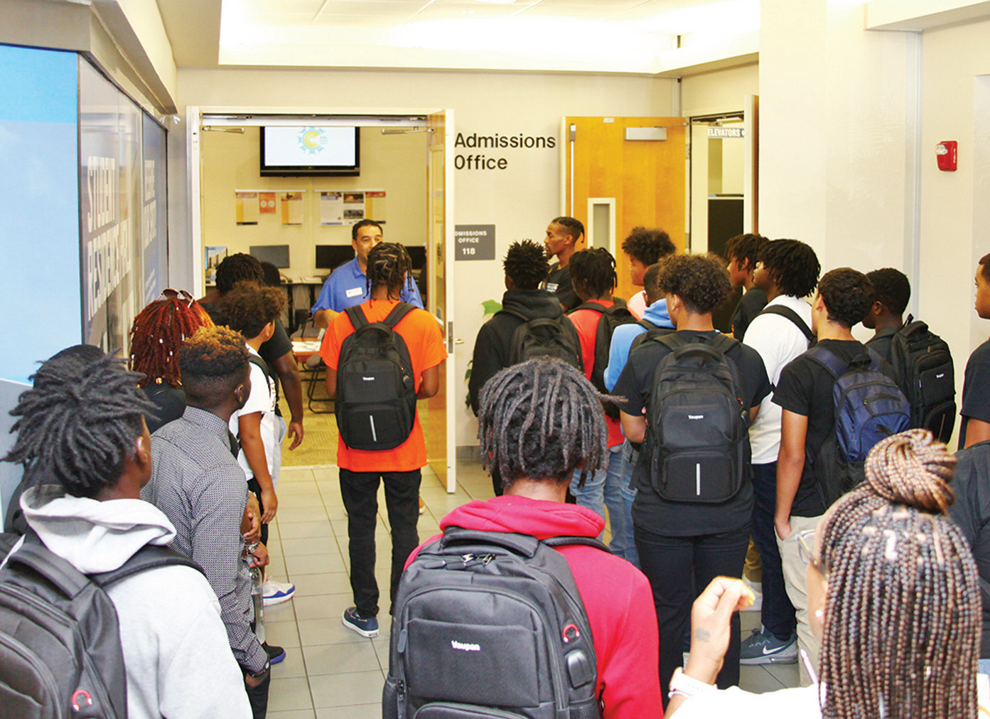 It's never too early for teenagers to start thinking about college.
On July 25, 30 local teens in the Mr. and Ms. Mentoring Program toured Daytona State College's main campus in Daytona.
Topics for the students included how to apply to college, degree programs offered, services for students, campus life and more.
Participants said they found the tour inspirational and motivational. They are now even thinking about attending college in the future.
"Today's tour was amazing. I don't think a lot of people get the opportunity to come to this amazing campus," said Nalani Montgomery, 14, who will be an eight-grader at Calvary Christian Academy in Ormond. "It is pretty cool that we get to come here, and we get to see what college is like."
Gabriel Brown, 16, and a rising junior at New Smyrna Beach High School, said, "I really enjoyed this experience. I think that what we were shown today will motivate us to do different things. I just learned a lot of new stuff
that I didn't know before. I think this will definitely motivate most of us to go to college."
Daytona State teamed up with Mr. and Mrs. Mentoring for community outreach and to promote diversity in education.
"We're always looking to do outreach in the community. The makeup of Mr. & Mrs. Mentoring fits the demographic that I work with. I thought it would be a good idea to bring them in and to show them the different things available," commented Harry Anderson, Daytona State College student services advisor admissions/recruiting.
"We are targeting this age group so that they can learn things about college. My focus is diversity," Anderson explained. "I am trying to reach out to the kids at an early age so that they can formulate a successful path to the future."
Motivation for college
Derrick Collins, CEO and founder of the Mr. and Mrs. Mentoring program, is also a professional mental health counselor.
Collins has a bachelor's degree from Bethune-Cookman University (2009) in education and a master's in social work from the University of Central Florida (2013).
He said the tour was the perfect way to introduce local students to more opportunities.
"I just want the kids to be exposed to as many aspects of the city and community as they could be. We also want to motivate them to go to college," expressed Collins.
"This is also a financial literacy program as well, and whether its jobs, trades, college, college has many opportunities itself. We're trying to expose the kids to as much as we can that is positive and helps them succeed in life."
Stops along the tour included the admissions office, the Mori Hosseini School of Hospitality & Culinary Management, the new residence hall, the L. Gale Lemerand Fitness Center and Gymnasium, and other buildings.
The kids also viewed displays of the Digital Interactive Media, culinary, student center and TRIO programs.
Inter vention program
The Mr. & Mrs. Mentoring program is a research-based, mental health-focused intervention program for at-risk youth.
Kids in the program usually come from disadvantaged backgrounds, including poverty, low-income, single parent households or foster care.
Students from ages 13 to 18 participated in its summer program, which runs June 16 to Aug. 3.
Students participated in many activities, including resume writing, career assessments, entrepreneurship concepts and career possibilities.
They also took field trips to Brown & Brown Insurance, Synergy Insurance and more.
Throughout the school year, the program accommodates more than 100 students ages 8 to 18. On Wednesday, the students toured Bethune-Cookman University.
For more on the Mr. And Ms. Mentoring Program, visit www.mrsandmsmentoring.org.