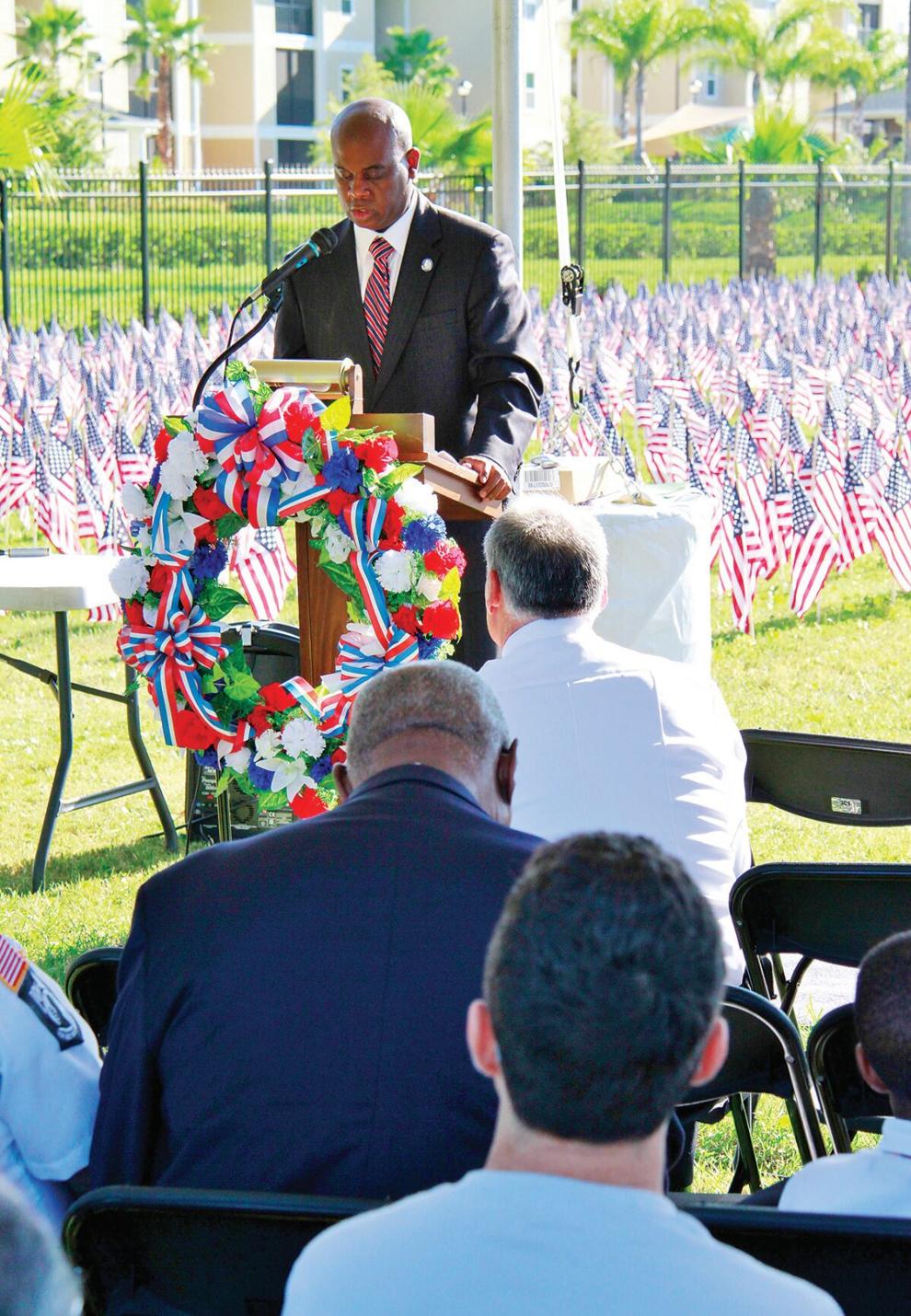 The Sept. 11, 2001 terrorist attacks will forever be in the hearts and minds of Americans.
On that day, more than 3,000 Americans lost their lives when two planes crashed into the World Trade Center in New York City, bringing down the twin towers.
A third plane struck the Pentagon, and another crashed in a field outside of Shanksville, Pennsylvania.
The U.S. responded with wars in Iraq and Afghanistan, along with heightened security and surveillance on its citizens and enemies across the globe.
The goal was to find Osama bin Laden and destroy his al-Qaida organization, which was responsible for the attacks.
Bin Laden was killed in Pakistan in 2011 by U.S. Navy Seals.
As Americans remember the tragic events, there are plenty of events to commemorate the victims all across the nation and locally.
Local events
A 20th anniversary 9/11 ceremony will be held at the Daytona Beach Fire Department Station #1, 301 South Beach St. The event will be held from 9 a.m. to noon.
"This is an important day to us all, especially those in the fire services as we honor not only firefighters but all the first responders and people who lost their lives during that tragic day," said Sasha Stanton, spokesperson for the Daytona Beach Fire Department. 
Daytona Beach Mayor Derrick Henry, City Manager Deric Feacher, Police Chief Jakari Young and Fire Chief Dru Driscoll are scheduled to speak at the ceremony.
The ceremony will include the fire department honor guard, traditional bagpipes and the presentation of the colors. Also, Daytona Beach firefighter Charles Stevenson will sing the national anthem.
"This is very special to us with him being one of our very own firefighters," noted Stanton.
The service is all about bringing the community together to remember the tragedy of Sept. 11, Stanton said.
"We want to share this moment with our community, which is a solemn day for all Americans," Stanton explained. "This is a way for the community to come together to share this moment with firefighters, first responders and pay tribute to all those who lost their lives in this tragedy."
Other Sept. 11 festivities include the following:
9/11 Moving Tribute with national veteran organization Team Red White & Blue at Embry-Riddle Aeronautical University at sunrise, from 7 a.m. to 7:34 a.m.
9/11 Memorial Bridge Walk with first responders at City Hall located at 22 Beach St., Ormond Beach. A proclamation will be read at City Hall at 7:45 a.m. followed by a walk over Grenada Bridge at 8 a.m.
New Smyrna Beach Fire Department's 9/11 20th anniversary ceremony is at Fire Station 50, 1400 SR 44. The event is from 8:45 a.m. to 10 a.m.
A 9/11 Memorial Service with a dedication of a 9/11 survivor tree will be at Heroes Memorial Park, 2860 Palm Coast Parkway NW, Palm Coast. The event is set for 6:30 p.m.
Knights of Columbus's 9/11 Memorial Ride is hosted by Palm Coast Pipes & Drums, Flagler Beach pier, 105 S. Second St. The ride begins at 8:30 a.m.
Day of horror
Many residents vividly re- member where they were on Sept. 11, 2001. Darryl Nattiel is one of them.
"I was teaching swimming to the physical education kids at Norland Middle in Miami. I was waiting to pick up my class and take them to the pool, which was next door," Nattiel said. "Then a social studies teacher told me to come inside, and we watched the news in horror."
Nattiel doesn't plan on at- tending any events commemorating 9/11, but he will be mindful.
"I'll actually be out of town that day, but I'll likely have a prayer or moment of silence to honor the victims and their families," he told the Daytona Times.