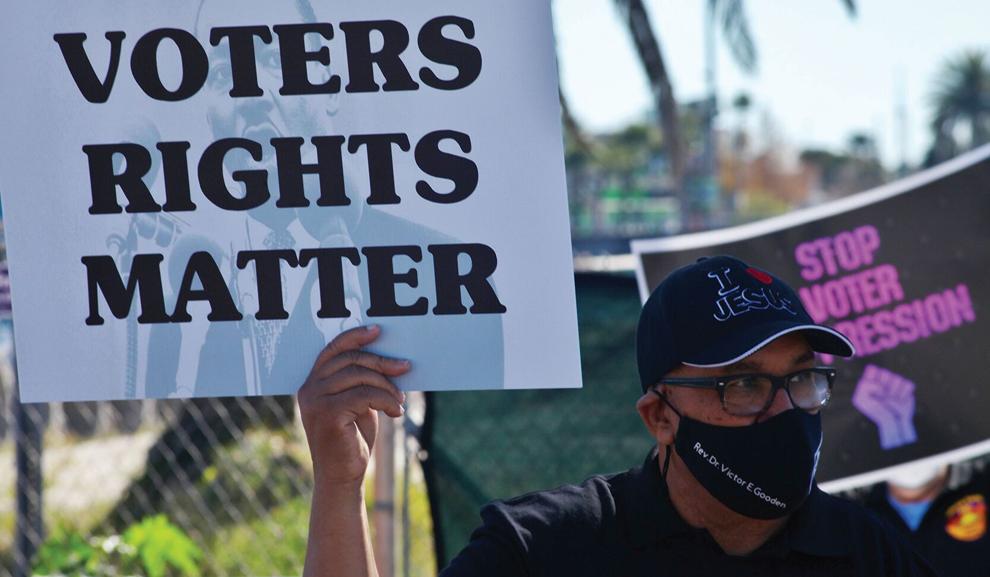 Despite cold weather and the coronavirus, the life and legacy of Dr. Martin Luther King Jr. was celebrated locally with plenty of activities.
Dr. King was a clergyman and civil rights activists who fought racism and social injustice. Born on Jan. 15, 1929, he was shot and killed on April 4, 1968, in Memphis, Tenn.
In 1983, Dr. King's birthday was made a federal holiday. It is observed every third Monday in January, and this year his holiday observance was on Jan. 17. 
Monday's events
Tonia Caslin attended events with her teenage children in Daytona on Monday, Jan. 17, including a prayer at Allen Chapel A.M.E. Church, followed by a march and community festival in Daisy Stocking Park.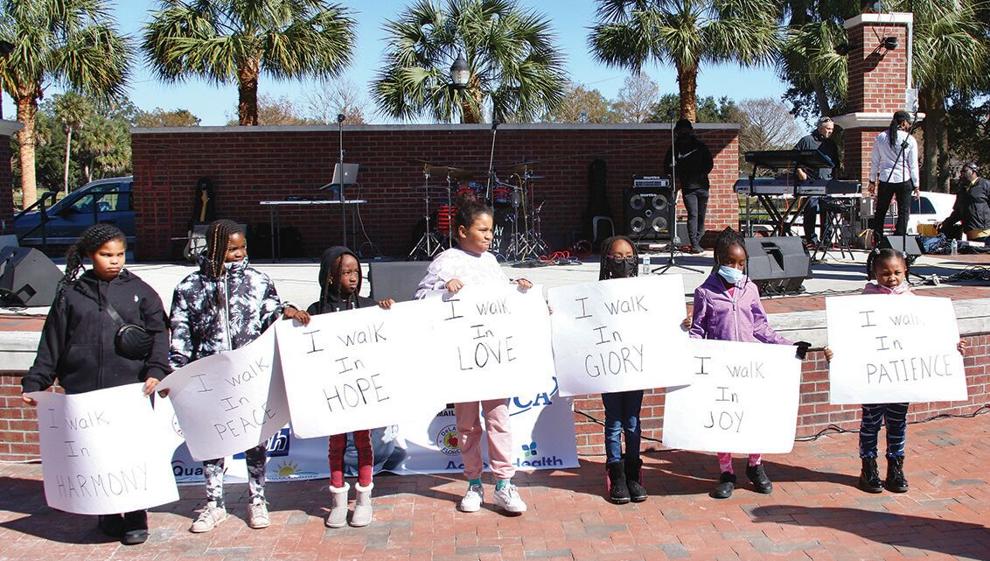 "I came to support the cause and celebrate Dr. King," Caslin said. "I am glad they have a festival which gets people out doing different things."
The Martin Luther King, Jr. Celebration Committee of Florida, Inc. is a non-profit organization that organizes MLK Day events in Daytona.
"We must keep history alive, especially Black history. Our kids need to know Black history and culture. We will start with Dr. King because he made so much history," said Kim Brown-Crawford, the committee's event chairperson.
"Things went great. We had a great turnout for the march," Brown-Crawford said. "There is also a festival in DeLand, which a lot of people went to. We are here to honor Dr. King. It's not a day off; it's a day on."
It was the first time an MLK community festival was held in Daytona. It featured information on health care, education, social services and more.
There also were vendors selling food and goods, voter's registration, coronavirus vaccines and booster shots, displays, speeches, presentations, music, line dancing and entertainment.
"We hope that the festival catches on and grows. It's also a time to showcase youth talent and support both businesses and non-profits," said Brown-Crawford.
Six high school seniors received $1,000 scholarships and an additional $400 for books and supplies for college.
The winners are Lanise Rainge-Innis (New Smyrna Beach High); Christopher Hill (New Smyrna Beach High); Willie Williams (New Smyrna Beach High); Sean Rainer (New Smyrna Beach High); Jonathan Campbell (Mainland High); and Xavier Harris (Mainland High).
"I think it is a great thing. It's awesome. I am really thankful for everyone who put the money in for us to get it," Rainge-Innis said. "I am glad that I can go to school and not have to pay as much as I would have."
On Jan. 17, a drive-through MLK breakfast, held at the South Ormond Beach Neighborhood Center, also included free coronavirus testing and voter registration.
In DeLand, there was the traditional march through downtown which promoted voting rights followed by the community festival in Earl Brown Park with music, entertainment, vendors and a 3-on-3 basketball tournament.
The MLK breakfast and march in New Smyrna Beach scheduled for Jan. 17 were canceled.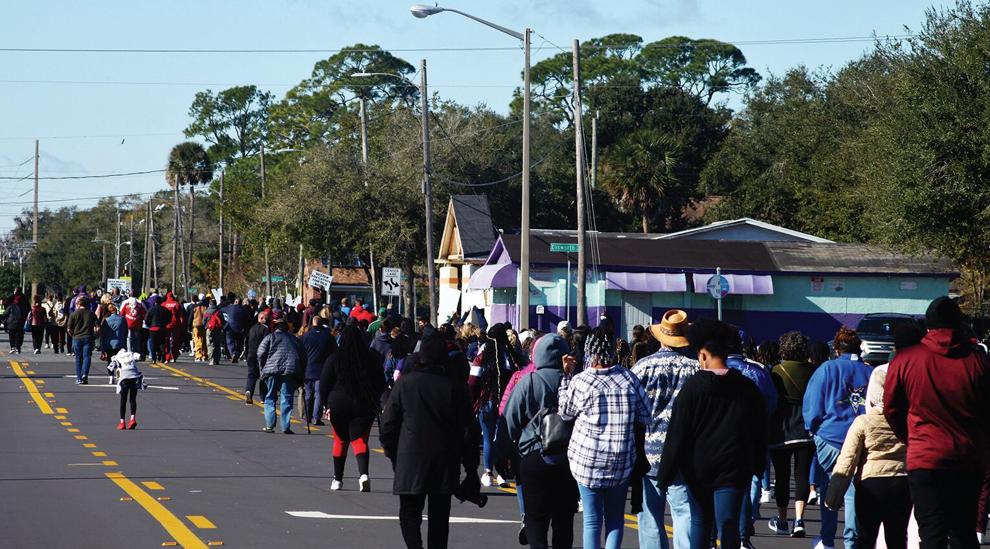 Weekend events
MLK festivities started in Daytona with a voting rights rally at the bridge at International Speedway Boulevard and Beach Street on Jan. 15. 
The rally was led by the Volusia County Democratic Black Caucus. The Volusia County Democratic Party, Daytona Beach Black Clergy Alliance, Daytona Beach/Volusia and West Volusia NAACP branches participated.
"The protest was a success. The King family asked that we protest and be proactive by pushing Congress to pass the John Lewis Voting Rights Act," Brown-Crawford said.
Voting rights and Dr. King's legacy go hand-in-hand.
"It's important that we celebrate Dr. King and fight for voting rights just like he did, especially today when voting rights are under threat," said Cynthia Slater, president of the Daytona Beach/ Volusia County NAACP.
"Marching and talking is one thing, but when registered voters exercise their right to vote, they can vote out those trying to restrict their right to vote. We can't just sit on our bottoms and allow elected officials to turn the other way on voting rights."
On Saturday, Jan. 15, an MLK breakfast was held at The Center at Deltona.
There also was a community worship service at the Sanctuary Church in DeLand where Bishop Paul S. Morton spoke about voting rights and civic engagement.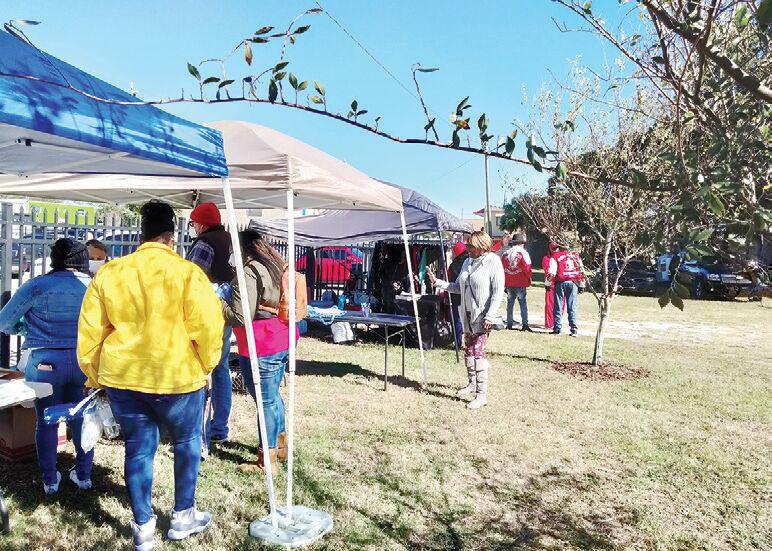 In Daytona, a musical and spoken word event with Dr. King's speeches was held at Allen Chapel.
On Jan. 16, seven local pastors spoke at the Seven Words from the King Inc., "An Afternoon of Civil Rights" at Master's Domain Church of God in Christ.
Daytona is displaying banners honoring Dr. King on International Speedway Boulevard from Nova Road to Dr. Martin Luther King, Jr. Boulevard. They will remain until February.
The fight for Dr. King's legacy, civil rights and social justice continues today.
Brown-Crawford added, "There are so many things to fight for. Dr. King wanted affordable housing and equality for all. It's a shame that we're still fighting for some of the things that he died for. We'll keep pressing forward."