Starz crime drama renewed for second season after debut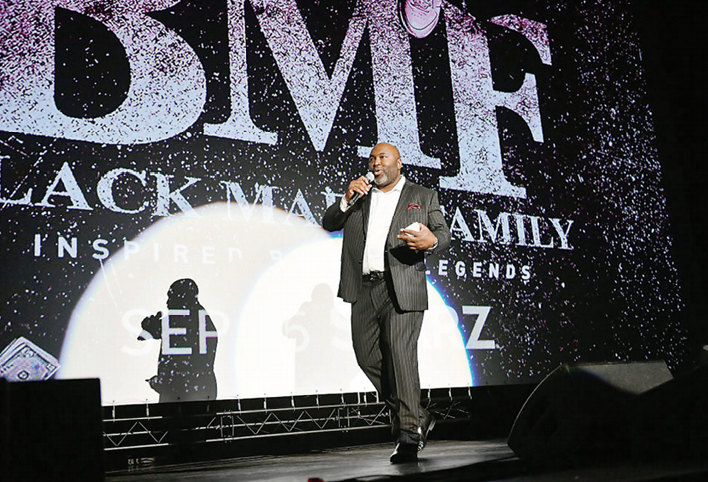 DETROIT — Randy Huggins thinks his hometown is long overdue a TV series as stylish and suspenseful as "BMF."
"I think it's about time the rest of the world sees how special our city really is," says the Detroit native who's the executive producer and writer of the latest Starz crime drama from legendary rapper Curtis (50 Cent) Jackson.
Set in 1980-something Detroit, "BMF," which airs Sunday night, is inspired by the real-life story of Demetrius and Terry Flenory, two brothers from southwest Detroit who built a cocaine-trafficking empire and ventured into the music industry before being sentenced to 30 years in prison.
The show debuted Sept 26. Less than a week later, it was renewed for a second season.
What Huggins, 49, really wanted to do was become a writer. It took talent and determination for the former Detroit public school teacher to move to Los Angeles and build an impressive career in the TV industry.
Along the way, he found encouragement from Erykah Badu and David Mamet, among others.
Huggins talks about his life so vividly you start hoping his next prime-time series will be autobiographical.
Using sports lessons
Long before he was in charge of "BMF," Huggins was earning mentions in local newspapers as an all-state football player from the now-closed St. Martin de Porres High School. Sports have always been part of his life, he says, and they continue to guide him in building teamwork among his cast and crew members.
He was able to attend college through a Coleman A. Young Foundation scholarship. Formed in 1982 by Detroit's iconic first Black mayor, the foundation provides financial support and mentoring to promising students.
In a 1996 Free Press story, Huggins revealed that after leaving two colleges because of grade issues, he got help in focusing on his studies from the scholarship's staff and obtained a history degree from Louisiana's Grambling State University.
At Grambling, he took a drama class and told entertaining stories about his life that prompted a classmate named Erica Wright to urge him to write them down. "She used to be like, 'You're lying! You're not telling the truth. Nobody's life is that dramatic,'" he recalls with a laugh.
"Cut to three years later, she had graduated, and I was going to Chicago to visit my friend," Huggins continues. "And my friend says, 'You know, Erica's album is out. Erica Wright is actually Eryka Badu."
Through those early years, Huggins held on to Badu's advice. "She was the first person that told me I needed to start putting my life into movies."
After college, Huggins worked for five years as a Detroit elementary school teacher and also mentored new Coleman Young Foundation scholars. Yet his writing dream persisted.
He heard about a New York Film Academy program in Los Angeles, but he needed to raise about $8,000 to attend it. Determined not to miss the opportunity, he attempted some grassroots crowd-sourcing long before it became a trend.
"I wrote a letter to all my family, friends and co-workers," he recalls. "I asked them for donations of $100, $250 and $500. Within three weeks, I had $10,000. I hopped in a car and drove to California and just hustled my way from the ground floor up."
Entry-level program
Finding work as a writer was a challenging process. Although Hollywood is paying more attention today to diversity and inclusion, the majority of TV show creators back then were — and still are — white men.
Huggins says he got his foot in the door through the Streetlights Production Assistant Program, which helps men and women of color gain experience for behind-the-camera careers. He started working as an entry-level assistant on TV commercial shoots and began earning close to $1,000 a week.
Then Huggins received an offer to be a production assistant for two months for $500 a week. That was a hefty pay cut, but he knew he would be working on a TV pilot. The show turned out to be the popular crime drama "The Shield" starring Michael Chiklis, which ran on FX from 2002 to 2008.
On that assignment, Huggins met the pilot's director, actor Clark Johnson from "The Wire" and "Homicide: Life on the Street." Remembers Huggins: "I'm the only Black guy in the office. He's the Black director. So he speaks to me. And it just so happens that Clark Johnson used to play ball at Eastern Michigan University."
Johnson wound up introducing him to Shawn Ryan, the creator of "The Shield," who later asked him to return to the show once the pilot was picked up as a series. When Ryan became an executive producer of "The Unit," Huggins went along to be his assistant for what was supposed to be a brief period. Then fate — and David Mamet — intervened.
Mamet, the Pulitzer-winning playwright and screenwriter known for "Glengarry Glen Ross," "The Verdict" and "Wag the Dog," had created "The Unit," a CBS drama about a covert special forces team. Says Huggins: "David Mamet met me and said, 'I love this guy. We've got to hire him." After one season there, Huggins was promoted to staff writer.
Since then, Huggins has been a writer and producer for several shows, including CBS's "Criminal Minds," the American version of "Prime Suspect" and Fox's "Star."
Meeting 50 Cent
Huggins knew 50 Cent from working as a writer and producer on the original "Power," a major hit for Starz. Jackson was the costar and executive producer and eventually helped shepherd the show into a veritable franchise of sequels and spin-offs for the network.
Jackson had long wanted to do a show about the Flenory brothers and their BMF organization (as in Black Mafia Family). He turned to Huggins, who knows and loves Detroit, to shape the series and become its showrunner.
Huggins immediately began getting to know Big Meech, who's still in federal prison, through phone calls and lengthy visits. He spoke with Big Meech's younger sibling, Terry Flenory, who was released to home confinement in 2020 because of the COVID-19 pandemic.
Crime is only one element of the eight-episode first season. Huggins says "BMF" is the saga of a family, just like those essential mob dramas "The Godfather" and "The Sopranos."
Now that "BMF" will have a second season, there is much history left to inspire more story lines.
"What's really interesting about Demetrius and Terry is they really didn't blow up in Detroit," he says. Huggins sounds as if he's thinking about future plots as he talks. There are stories left to tell here, which means he is right where he wants to be.