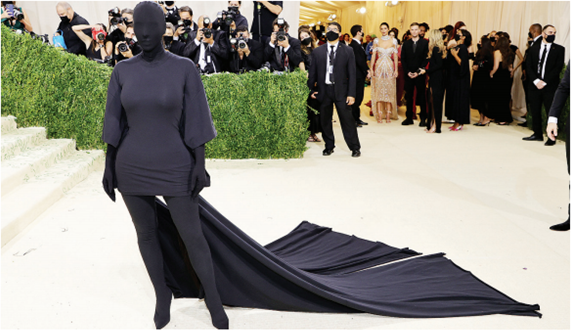 NEW YORK — From Peter Pan's shadow to the titular "Alien," everyone had something to say about Kim Kardashian's Met Gala look.
The reality star, 40, was dressed head to toe in black when she arrived Monday at the long-awaited — and much delayed, thanks to COVID-19 — party for the rich, famous and designer-dressed.
While some wondered whether Kim was really under the form-fitting, facecovering (guess she didn't need a COVID mask) ensemble, and others pointed out how much it evoked the style of her ex, Kanye West, the Twitterverse had plenty to say about the main Kardashian's look.
According to one perceptive Twitter user, Kim K's outfit evoked the je ne sais quoi usually associated with the growling, nightmare fuel that are the aliens in the sci-fi horror franchise of the same name. Let's just say Ridley Scott and Sigourney Weaver would have been proud.
More than one user pointed out how closely Kardashian's garb resembled that of the soul-sucking dementors in the "Harry Potter" books and films. You know, the ones who are faceless, cloaked, and quite literally suck their victims' souls — until someone shows up with chocolate.
One user really dug into the pop culture vault when she said Kardashian looked to be "cosplaying Buttercup on that one episode of the Powerpuff Girls."
Another user thought that Kardashian was keeping up with the look known to many a Freeform (or once upon a time ABC Family) viewer as "A" from "Pretty Little Liars," the seemingly omnipotent stalker(s) who wreaked havoc on the lives of the protagonists.
Plenty drew comparisons between the look donned by Kardashian and little sis Kendall Jenner — whose revealing gown was supposed to be a much-updated take on a look worn by Audrey Hepburn in "My Fair Lady," with less rain in Spain and more skin.
"POV: you're kim kardashian at the #MetGala," quipped one user with a snap of the sisters chatting and then a fabriccovered glimpse of Jenner.
"Kendall & her shadow (Kim)," joked another.
And for some, Kardashian didn't just look like her sister's shadow, but Peter Pan's.
"Kim walking around the #MetGala like Peter Pan's lost shadow...," wrote a user.