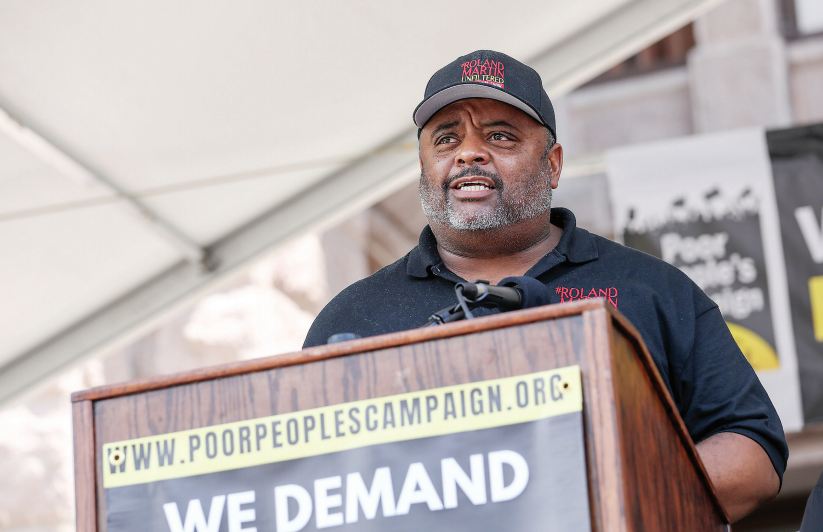 The veteran journalist is using his own money to prove it
Veteran journalist and political analyst Roland Martin's headquarters in Washington, D.C., is filled with vibrant paintings and prints by Black artists. But the one that speaks loudest is the large collage topped with bold, large letters that say #BlackOwnedMediaMatters.
Covering an entire wall, the piece displays front pages from various publications such as Jet, Ebony, Essence, the Pittsburgh Courier, Negro Digest, Savoy and the NAACP's journal, the Crisis. There are logos from the first Blackowned TV station, WGPR in Detroit, and TV One, the cable channel where Martin anchored a daily news program.
It's a legacy Martin wanted to follow when, in 2018, he launched his own streaming news show, "#RolandMartinUnfiltered," aimed at Black audiences. Three years later, it became the flagship for his Black Star Network, which now has seven shows.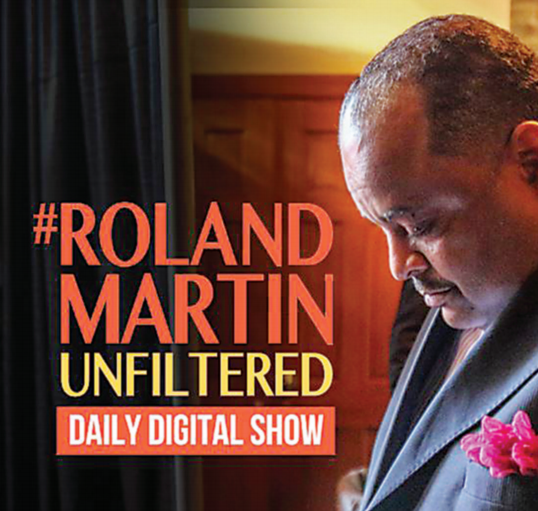 When Martin, 53, describes his entrepreneurial vision, he cites an 1827 quote from Freedom's Journal, the nation's first Black newspaper: "We wish to plead our own cause; too long have others spoken for us."
While mainstream news organizations have added more diversity on camera and in the executive suite, Martin says having sources dedicated to Black audiences still matters.
"The most important thing we have in Black-owned media is authenticity and trust," Martin said. "We are perceived differently. They see us as family."
'Pulse of Black America'
Martin toiled for a number of Blackowned outlets — he ran the Chicago Defender and launched the digital platform for Tom Joyner's syndicated radio program. But his popularity skyrocketed when he became a cable news fixture as a commentator for CNN from 2007 to 2013.
"Roland has always had the pulse of Black America," said veteran journalist Soledad O'Brien, a colleague of Martin's at CNN. "He's a truth-teller."
A staunch defender of former President Barack Obama, Martin was a bold voice during CNN's political coverage, which earned a Peabody Award in 2008. He also drove the network to pay more attention to such stories as the Trayvon Martin killing.
CNN ratings spiked whenever Martin appeared on the cable channel's programs. Such data would ordinarily be a reason to give a personality a show of his own.
But being a fiery communicator who takes no prisoners — especially when opposing talking heads spout misinformation — made some TV news executives uncomfortable.
"A network president said to a friend of mine that 'Roland is like a strong cup of black coffee,'" Martin recalled during a recent interview at his office. "And I said to my friend, 'The value of a strong cup of black coffee is that it shakes you out of your complacency.'"
Future of TV
Martin left CNN to become anchor of a daily newscast, "NewsOne Now," on TV One, where he already hosted a weekly Beltway talk show. It was canceled in 2017 after four years due to budget cuts, despite earning a loyal following and an NAACP Image Award.
By that time, Martin, a student of the technical side of TV, realized how streaming video offered the opportunity for ownership, editorial freedom and the ability to target an audience seeking his perspective. Using his own funds ($400,000 was the initial investment), Martin created "#RolandMartinUnfiltered," a daily two-hour show distributed through an app, social media sites and streaming video platforms such as Roku, Fire TV and Apple TV. Today, he has nearly 900,000 subscribers on YouTube, where the show first launched, and 11 employees.
Martin's voice was welcomed as major stories such as the police murder of George Floyd and the impact of the COVID-19 pandemic made race and equity issues a major national conversation. In 2020, his program averaged 30 million views a month and turned a profit, he said.
Major advertisers have signed on, including Procter & Gamble, General Motors, Verizon, Target and Coca-Cola. He is on track to take in $3.5 million in revenue this year, up from $3 million in 2021.
Martin's venture demonstrates how well-known personalities with devoted followings can take control of their own destiny by adapting to streaming.
Early business lessons
Growing up in the Clinton Park section of Houston, Martin got his business education by working for his grandmother's catering service, where he observed negotiations with customers and vendors. Those lessons taught him how to operate with a lean staff and limited resources.
Martin knows the function, model number and cost of every piece of video equipment he uses. When he travels to Los Angeles or events such as the Essence Music Festival in New Orleans, he will bank hours of interviews for future programs and archival material.
Martin's daily two-hour program does not try to reinvent the cable news. He leads discussions on the biggest stories of the day, most of them Washington-based. The difference is every topic is examined through the prism of what it means to Black Americans with experts not often seen on other outlets.
"During the confirmation hearings for Supreme Court Justice Ketanji Brown Jackson, I said, 'Get me every Black dean of an HBCU law school,'" Martin said. When the pandemic hit, he featured professors from HBCU medical schools and Xavier University.
"There is a huge reservoir of knowledge and intellect there that folks don't tap into," he said.
Stories that have an impact on the Black community and get a segment or two on mainstream outlets will get a full program from Martin. He streamed live for six days from Tulsa, Oklahoma, to cover the 100th anniversary of the massacre of Black Wall Street.
He will often wear the colors of a historically Black college or university or one of the dashikis he had custom-made during visits to Africa. His set features images of Black icons such as journalist Ida B. Wells-Barnett and Harry Belafonte, as well as a pair of Nike Air Force 1 sneakers that commemorate Colin Kaepernick.
'Fulfillment of a dream'
Martin said Black Star Network is the fulfillment of a dream he's had since his days as a student in the communications program offered by Yates High School in Houston.
Martin's childhood was steeped in current affairs before studying journalism at Texas A&M. His parents were politically active, working on local campaigns and forming a civic association in their neighborhood. His father, a railroad worker, was a heavy viewer of local and network TV news.
Martin had to speed-read his household's daily newspaper so he could get it back in the plastic delivery bag in pristine condition before his father returned home from work. "Black fathers didn't play with their papers," he said. "You didn't touch it until he finished it."
He also immersed himself in the leather-bound volumes of the "Ebony Pictorial History of Black America," turning him into a human search engine of important African American milestones and civil rights figures.
Lately, Martin has heard agencies raise issues about "brand safety," as executives fear running their ads during content they perceive as too divisive or disturbing. It's why Martin has developed several non-news shows, including a celebrity interview series, "Rollin' With Roland."
But he does not want to stray too far from issues facing the Black community. "If you choose to go safe, you lose what makes you powerful," he said.