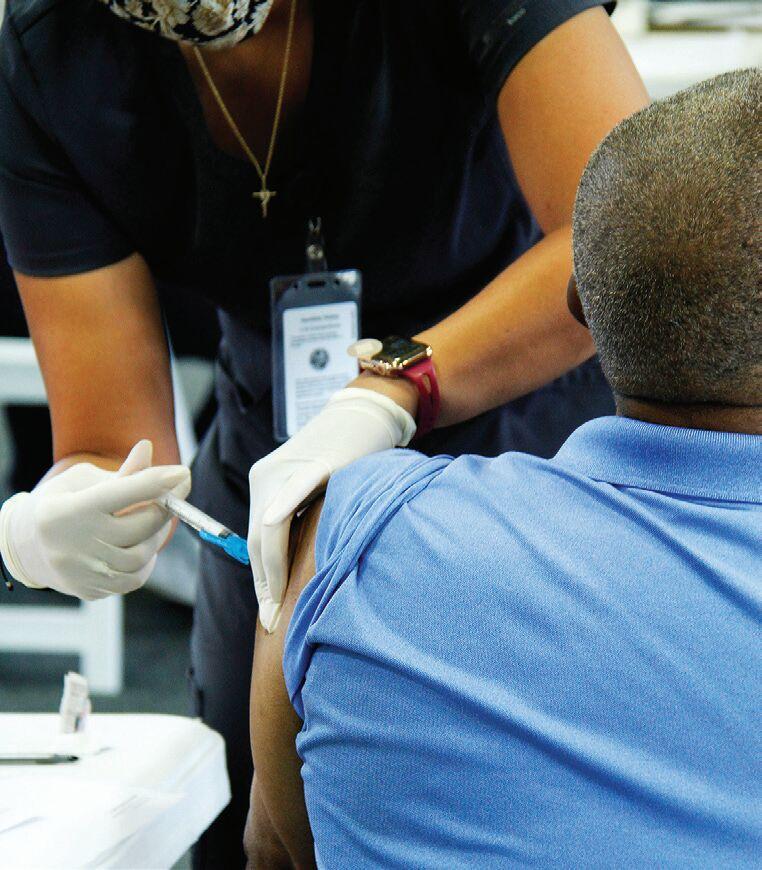 With a spike in coronavirus cases and hospitalizations, authorities here are scrambling to keep the virus in check.
On Tuesday, the U.S. Centers for Disease Control and Prevention (CDC) issued new masks guide- lines recommending that fully vaccinated people wear masks in most outdoor spaces.
Meanwhile, the City of Daytona Beach is working to help area residents protect themselves from the spread of COVID-19.
The city is hosting a three-day vaccination event at the following locations and days:
Tuesday, Aug. 10 from 9 a.m. to 1 p.m. at the John H. Dickerson Community Center, 308 Dr. Martin Luther King Jr. Blvd.
Wednesday, Aug. 11 from 2 p.m. to 6 p.m. at the Midtown Cultural & Educational Center, 925 George W. Engram Blvd.
Thursday, Aug. 12 from 9 a.m. to 1 p.m. at the Schnebly Recreation Center, 1101 N. Atlantic Ave.
"The numbers are out of control. When the vaccine first came out, people were lining up to get it but now there is a hesitancy," said Daytona Beach Mayor Derrick Henry.
"I got vaccinated when the vaccine first came about to encourage others to do so and to show that it was safe."
Volusia County residents who get vaccinated at these sites on these days will receive a $25 Walmart gift card, up to $50 for a two-shot series.
Family Health Source will supply and administer Moderna vaccines. The gift card incentive is part of the mayor's initiative to encourage reluctant residents to get vaccinated. The cost of the gift cards is being provided by Jon Hall Chevrolet and Brown & Brown Insurance. 
Delta variant spike
The Moderna version of the vaccine, which requires an additional dosage within 28 days, is being administered.
Health care officials say the delta variant is to blame for the recent spike.
"A lot of it has to do with the delta variant of the virus, which is highly transmissible," said Florida Department of Health-Volusia Health Manager Benjamin Juengst.
He said that 96.5 percent of the new spikes in cases and hospitalizations are vaccinated while 3.5 percent are not.
"We have a sizable amount of people in the community that aren't vaccinated," said Juengst.
Health care officials say the lo- cal adult population vaccinated in Volusia County is around 50 percent.
"For the most part, vaccination provides protection against hospitalization and deaths. It's all about protection. If you can get vaccinated at one of these events, do so," said Juengst.
Health care disparities
There is no secret that the Black community is being hit disproportionately hard when it comes to the coronavirus pandemic. There are also health care disparities and a distrust when it comes to the health care system.
"When things are conducted closer to your home, people are more comfortable. We hope that having this in the core of our city will encourage people to be vaccinated. We have two in the heart of the city where many have been mostly impacted by COVID-19," Henry said.
Local authorities are scrambling to provide resources for the community but say it starts with the people in the community.
"We just need people to get vaccinated at a higher rate. It is not what we can do as a city but what people can do individually to protect themselves," Henry added.
"I read an article where one state is 85 percent vaccinated. They are able to live their lives. Florida is only 46 percent vaccinated. We are having these spikes in Volusia County and Daytona Beach, which are out of control."
More guidelines
Juengst also addressed the hesitancy of the public to get vaccinated.
"It is an individual choice. People must weigh the risk but those in high-risk groups, especially the elderly who have higher chances of contracting it, should not hesitate," said Juengst.
Young people aren't being sparred by the virus either.
"We are seeing it kill more young people in their 20s and 30s too. Also, those with underlying conditions should also consider getting it," Juengst noted.
New CDC guidelines also include the following:
Everyone in schools should wear masks.
People should wear masks even if vaccinated if they live in a place with substantial or high transmission.
"The guidelines are to protect the public from the illness,'' Juengst added.