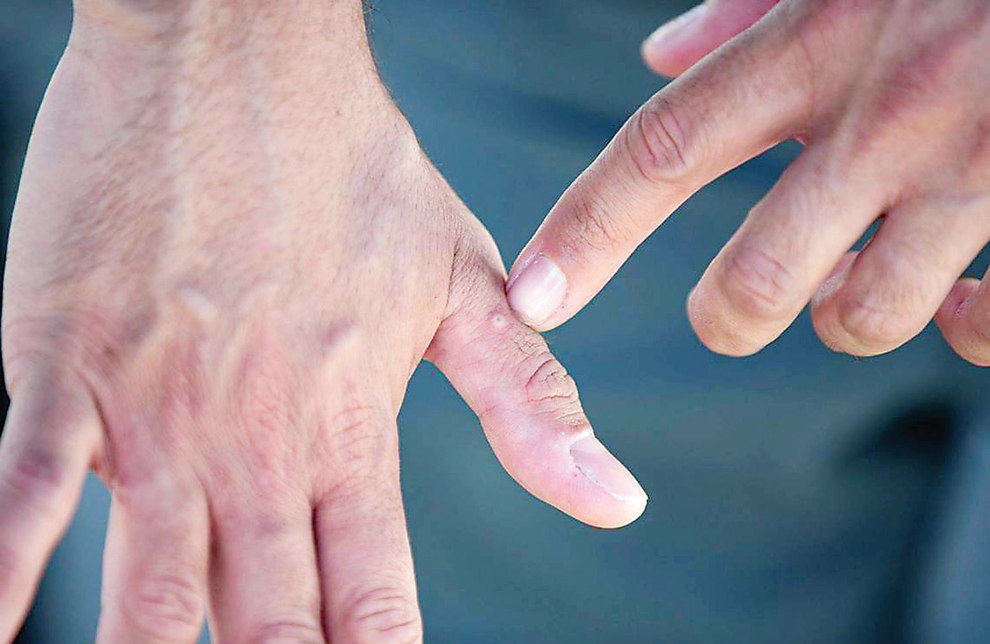 The recent monkeypox outbreak is the latest healthcare crisis to unexpectedly spread havoc on the world, and even here locally.
The Florida Health Department confirmed the first monkeypox case in Volusia County on July 29.
In a statement released that day, the Health Department confirmed that it, along with the Bureau of Public Health Laboratories and the Center for Disease Control (CDC), are investigating the case and are working to notify others who may have come in contact with the individual. The case is said to be isolated.
"DOH-Volusia is conducting epidemiological investigations to notify possible exposures and offer potential post-exposure prophylaxis," the department said in a press release.
Monkeypox is a viral disease that was once rare in the United States.
It has historically occurred in Central and Western Africa but now has spread to other countries.
According to the CDC, monkeypox can be spread to anyone through close, personal and skin-to-skin contact.
Experts say a person infected can spread it to others from when symptoms start until the rash has fully healed, and the illness typically lasts between two and four weeks.
Not a sexually transmitted disease
Monkeypox is not a sexual transmitted disease like some have rumored it to be.
"It is not transmitted sexually; however, transmission of monkeypox generally requires prolonged, face-to-face contact, direct contact with an active rash, or indirect contact with an active rash through contaminated items, such as contaminated clothing," stated Wendi Jackson, a spokesperson for the Florida Department of Health-Volusia via email on Tuesday.
Although there's no specific treatment for monkeypox infections, officials with the CDC say antiviral drugs and vaccines created for smallpox, a genetically similar disease, may be used to prevent and treat monkeypox.
"Treatments approved for smallpox may be used due to the similarities of monkeypox and smallpox. Vaccination is recommended within 14 days of exposure to a person infected with monkeypox but the vaccine is most effective if given within four days," stated Jackson.
Virus symptoms
Monkeypox vaccine supplies are limited. A drug is available for those who have or are at risk but getting access to it remains difficult. 
Monkeypox symptoms are fever, headache, muscle and/or backache, swollen lymph nodes, chills, exhaustion, respiratory symptoms (e.g. sore throat, nasal congestion, or cough), rash that may be located on or near the genitals (penis, testicles, labia, and vagina) or anus (but-thole) but could also be on other areas like the hands, feet, chest, face, or mouth.
Health care officials wants the public to be aware and cautious but also say that catching and transmitting monkeypox is still very rare.
Jackson added, "Basically everything you get if you've had the chickenpox can occur with monkeypox. The fatality rate is low. The threat of monkeypox to the general population remains low."
Cases in Florida
As of the Daytona Times' Wednesday deadline, Florida had 480 confirmed cases of monkeypox which made it the fifth highest number of infections, according to the CDC.
Cases have been reported in 22 counties including 169 confirmed cases within a week.
CDC statistical data puts monkeypox cases across the country at 6,326 confirmed cases.
The first confirmed case of monkeypox in the U.S. was reported on May 18. The first confirmed case of monkeypox in Florida was on May 22.
Monkeypox cases have been confirmed in 46 states, Puerto Rico and Washington D.C.
Monkeypox was first discovered in 1958 but the first confirmed human case was in 1970 according to the CDC. www.cdc.gov/poxvirus/monkeypox/about.html
It has yet to be declared a national health emergency by the federal government.
However, the World Health Organization and states such as New York, California and Illinois have declared public health emergencies in regard to monkeypox.