Local leaders respond about Truck Meet after getting plenty of complaints
COMPILED BY DAYTONA TIMES STAFF
The Daytona Truck Meet drew thousands of truck enthusiasts to Volusia County from Sept. 4-6, adding heavy traffic and some headaches to an already busy Labor Day weekend. It had been pushed back to the holiday weekend because of the coronavirus pandemic.
Complaints about the Truck Meet, billed as the world's largest lift truck show, included significant traffic snarls, noisy and rowdy behavior, as well as increased careless driving and alcohol use.
On Sept. 8, Volusia County Council and county government stated that it had no role in issuing permits or sanctioning the event.
"While we had to deal with some of the impacts, the Truck Meet wasn't sanctioned, supported or promoted by the County Council or county in any way," said Volusia County Chair Ed Kelley. "This was all done privately. The county had no role in facilitating the event and has no say in when or whether it happens."
Parking lot parties
In a statement issued about the event, the county said beach safety officers also noted "an increase in careless driving and alcohol use, issuing 47 traffic citations, 59 parking tickets and 36 notices to appear in court over the weekend.''
There also were complaints about trucks causing large divots in the sand from doing spinouts on the beach. The county ended up closing down some of the beachfront parks to traffic to clear out parking lots that had been turned into party gathering spots, the county states. Other agencies assisted in the effort.
Kelley also expressed displeasure that the influx of trucks resulted in some noisy and rowdy behavior.
"We were disappointed with the actions that disrupted what should have been a nice family day on the beach," said Kelley.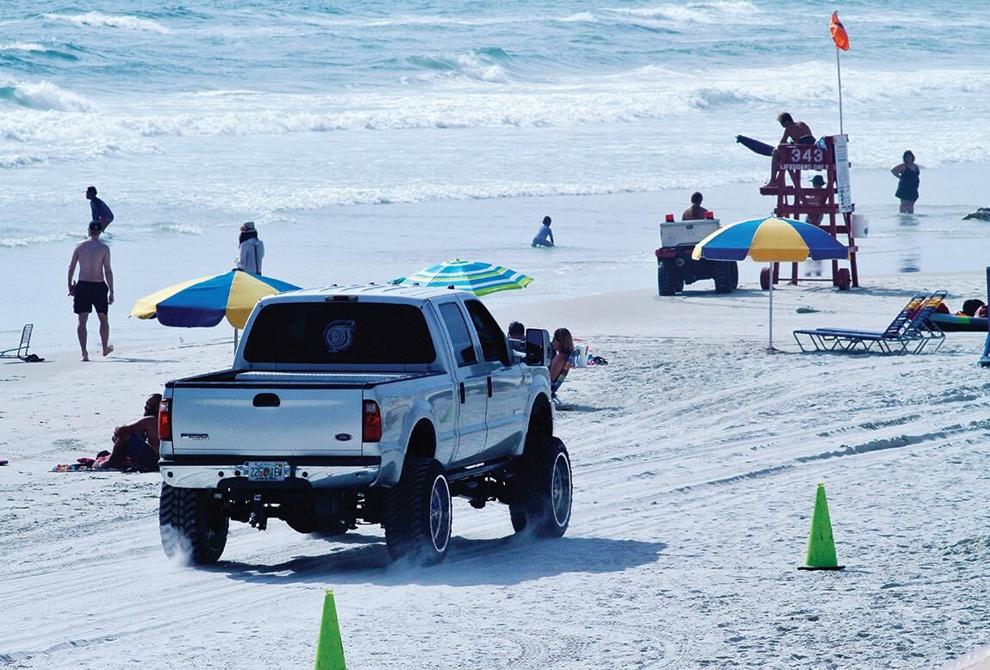 831 total citations
Daytona Beach Police Chief Craig Capri called the annual Truck Meet more challenging this year because it was held on a holiday weekend. The event is usually held in June. The main events featuring the big-wheeled vehicles are held at the Daytona International Speedway.
"Despite all that, we worked with the group organizing the event once again to make sure we didn't have as many issues as we did in years past,'' Capri stated. Last year's event attracted about 25,000 spectators
Capri issued the following information about the Truck Meet:
831 citations were handed out during this year's Truck Meet by all law enforcement agencies involved in the event, a large drop compared to last year (1,855) and the year before (2,131).
Law enforcement filed seven felony and 48 misdemeanor charges for Truck Meet 2020, both fewer than the past two years. 2019 had nine felonies and 58 misdemeanors and 2018 had 13 felonies and 64 misdemeanors.
There was a slight uptick in vehicles towed this year (19) versus last year (13), but it was fewer than the 22 hauled away in 2018.
"We couldn't have done it without the cooperation of the event planners and our partners at Daytona International Speedway and One Daytona. They stepped up by hosting numerous events all weekend long, giving truck enthusiasts the chance to enjoy themselves in a safe and responsible manner,'' Capri noted.
He also stated that the city's police captains, lieutenants, sergeants and officers put in a lot of overtime to make sure "we had the streets covered and keep traffic flowing.''
The police chief added, "We know these events can be aggravating at times, especially for beachside residents. We appreciate your cooperation, your understanding and any constructive criticism you'd like to share with us.''