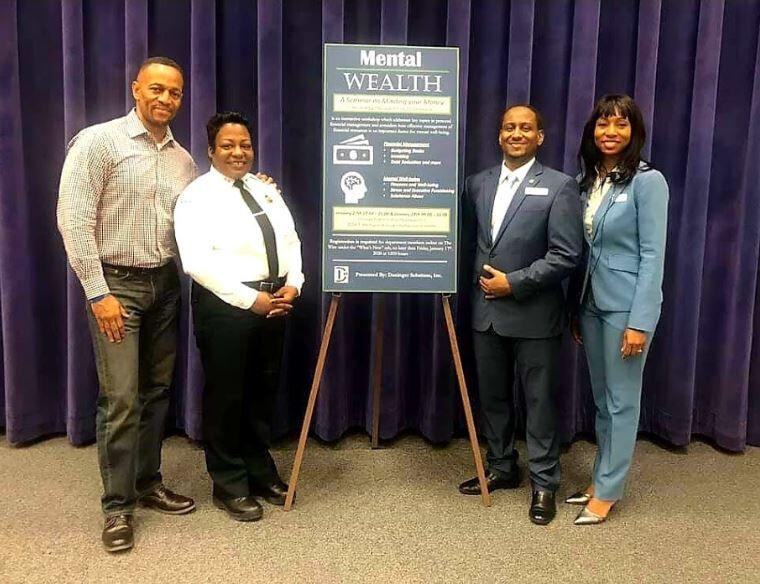 SPECIAL TO THE DAYTONA TIMES
Dr. Daniel L. Hollar, department chair of Bethune-Cookman University's Behavioral and Social Sciences Studies in the College of Liberal Arts, and Dr. Inger M. Daniels, visiting professor of Finance from Florida A&M University, delivered a two-day seminar, "Mental Wealth: A Seminar on Minding Your Money,''on Jan. 27 and 28 for the Chicago Police Department.
The seminar was attended by about 220 officers and 20 personnel in Chicago who learned the importance of maintaining one's mental health and the interaction between stress, executive functioning and financial wellness.
Officers received in-depth financial literacy and management training with personalized workbooks and activities for solutions to self-monitor their mental wellbeing as well as techniques to successfully plan and manage their individual financial responsibilities.  
"Mental Wealth: A Seminar on Minding Your Money'' is part of a yearlong effort designed by Hollar and Daniels to decrease the stigma of mental illness and increase resilience among police officers in Chicago and the surrounding area. 
HIGH SUICIDE RATE
In 2017, the U.S. Department of Justice reported that the Chicago Police Department had the highest rate of police officer suicide in the nation.  
This spurred a series of mental health workshops between 2018-2019, led by Hollar who holds a Ph.D. in Clinical Psychology with a specialization in suicide risk assessment, prevention and reduction.  
The workshop series, "Bridging the Gap," was covered by the Chicago Tribune and included top suicide researchers from academia, including Hollar's mentor, Dr. Thomas E. Joiner, Jr., national suicide research expert at Florida State University.  
Mental Wealth is the latest in this series and attempts to help law enforcement officers understand the interaction between financial stress and mental wellbeing.  
Hollar is currently working to bring this series of mental health workshops to the Daytona Beach Police Department later in 2020 and is collaborating with Daytona Beach Police Chief Craig Capri and Deputy Chief Jakari Young.