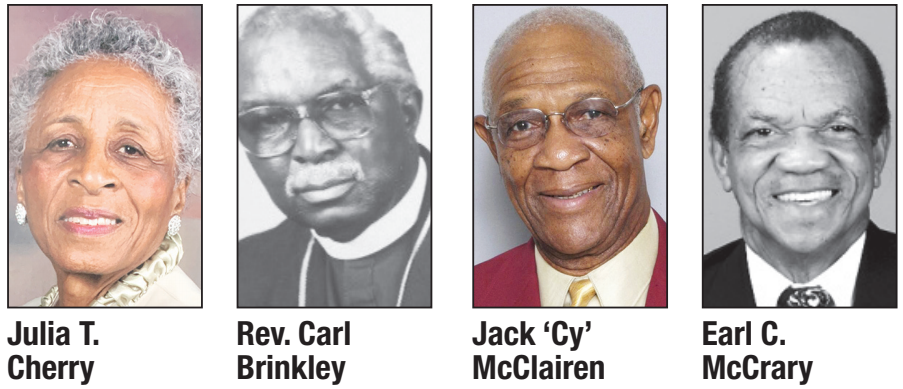 Sixteen local legends will be honored on banners during Black history Month for their contributions to the Daytona Beach community politically, culturally and socially.
Their images will be displayed on banners on International Speedway Boulevard between Dr. Martin Luther King Jr. Blvd. and Lincoln Street throughout the month of February.
This year's honorees include the Rev. Carl Brinkley; Jack "Cy" McClairen; Earl C. McCrary; Daisy Stocking; Julia T. Cherry; Andrew Moore, Sr.; and Rufus "Buddy" Young, Jr.
"This is an outstanding group of folks, just as others in the past. We have a strong group of women in this year's group. Their accomplishments are worth honoring," said Percy Williamson, chair of the Midtown Community Development Corporation (MCDC).
The MCDC and the City of Daytona Beach have teamed up to sponsor the banner project. Daytona Beach Commissioner Paula Reed, who holds the Zone 6 seat, has also spearheaded this endeavor.
The banners also will be posted on the city's website, www.codb.us, and MCDC's website, www.midtowncdc.org.
Brinkley was the first Black sergeant with the Volusia County Sherriff 's Office and the first Black director of the Daytona Beach Housing Authority.
McClairen was a legendary coach and administrator at Bethune-Cookman University and a former pro football player.
Stocking, a registered nurse, was one of Daytona's foremost humanitarians and medical practitioners. 
Cherry was a retired educator and the wife of civil rights activist and businessman Charles W. Cherry Sr. After his passing, she helped to run his businesses, including the Daytona Times newspaper.
Moore was a former dean and professor at Bethune-Cookman and former Daytona Beach city commissioner.
McCrary was the longtime pincipal at Campbell Junior High, now Middle School. James Daniels was an author and community activist.
Young was a former Daytona Beach city commissioner and police officer.
"You must understand that during segregation many Black folks had to do things because no one else would do them for Blacks. Many found ways to do that," noted Williamson. 
'Historical and educational'
The banner project is in its third year of existence in Daytona.
Williamson expressed, "This project has grown tremendously. It's been historical and educational. People get to learn about Black folks that did important things in this city. They left the city better than they found it."
The banner project is also a way to celebrate Daytona's rich and unique Black history, culture and heritage.
Williamson emphasized, "I tell friends that are not familiar with this city that we are the cradle of the modern civil rights era and they say that I'm kidding. Look at what Dr. [Mary McLeod] Bethune did. She got the Dodgers to bring in Jackie Robinson for one. Howard Thurman mentored Dr. King. The road through civil rights comes through our city." 
There will be an unveiling ceremony next month at the Bethune-Cookman University Center for Civic Engagement.
LIST OF BANNER HONOREES
Rev. Carl F. Brinkley
Vernon L. Echols
Jossie Queen James
Andrew Moore, Sr.
Daisy Hardy Stocking
Fannie H. Counts McNorton
Julia Mae Troutman Cherry
Jeannie Mae Fudge
Earl C. McCrary
Cardy Moten Sr.
Robert K. Wright
James F. Daniels
James Griffen Greene
Jack "Cy'' McClairen
Ralph A. Singleton, Sr.
Rufus "Buddy" Young