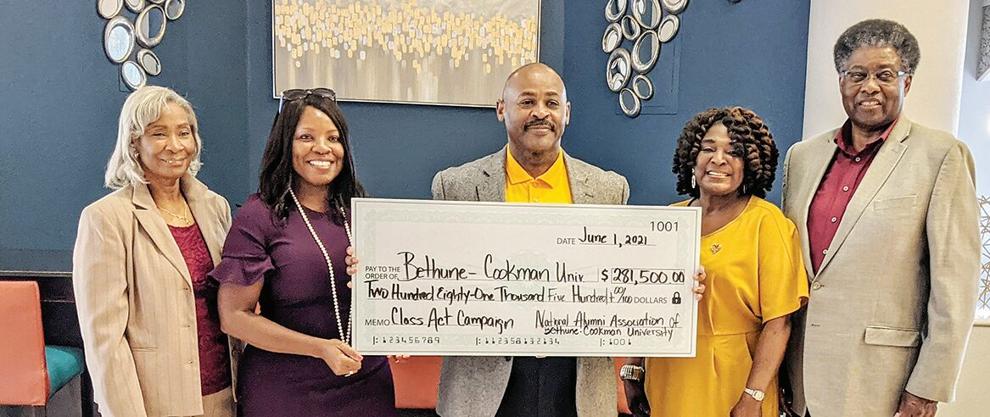 The National Alumni Association of Bethune-Cookman University, Inc. (NAA) recently concluded its "A Class Act" fundraising campaign, raising $281,500. The effort was launched with a goal of $200,000 in an effort to both increase the alumni giving rate and encourage consistent giving.
As part of the campaign, each graduating class was challenged to collectively raise $100,000, which would be matched by four generous alumni donors. 
"This campaign is a historic moment for the NAA and Bethune-Cookman University, as this is the most ever raised in a campaign fundraiser organized and sponsored by our association," shared Johnny McCray, president of the NAA.
"Our organizational aim is to sustain the legacy of our esteemed founder, Dr. Mary McLeod Bethune, by protecting, promoting, enhancing, and preserving Bethune-Cookman University. Next year, without the obstacles created by the pandemic, we expect to do even better."
The NAA hosted virtual pep rallies and meetings throughout the fundraising period to bolster alumni support. 
"The alumni family stepped up with incredible generosity despite having plenty of reasons to hunker down and care for themselves during the current pandemic," added McCray. "We are so blessed to be part of an alumni community that's full of selfless members and other supporters."
The campaign was co-chaired by NAA Fundraising Chairman Sumner Hutcheson III and Sherry Paramore who serves as the NAA Reunions chair.
For more information, visit naabcu.org.