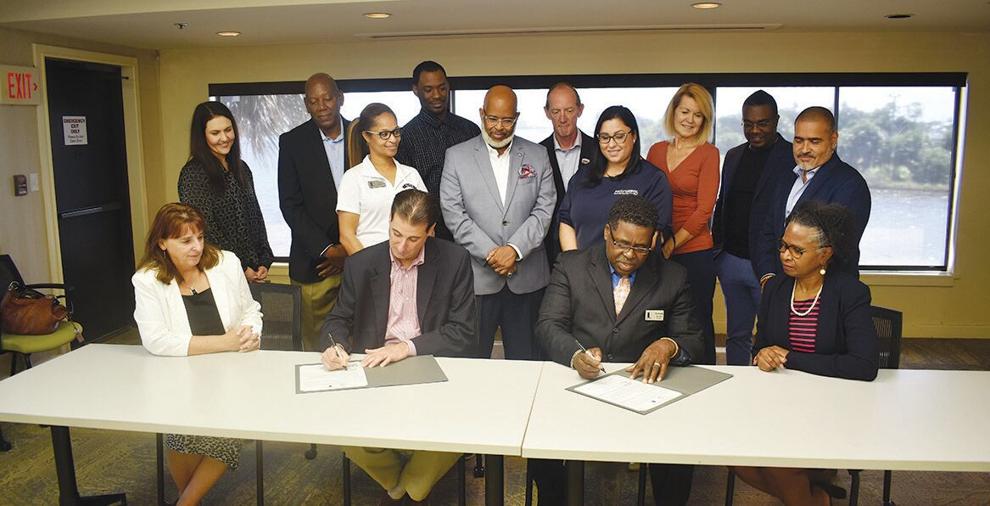 At a signing ceremony on Oct. 19, representatives of the Daytona Regional Chamber of Commerce and the Urban Chamber of Commerce of Volusia/ Flagler Counties joined together to sign a memorandum of support.
Over the past several months, representatives for each of the organizations have had conversations on how to better serve the business community in a more unified and inclusive fashion.
The Daytona Regional Chamber's Chairman of the Board Len Marinaccio of Bomar Construction expressed that "over the past year we have established additional programming through our Equity Diversity and Inclusion Council, led by Carmen Ruiz, FASTSIGNS of Daytona Beach, and a partnership with the Urban Chamber is an important part of a sustainable relationship for the years ahead."
He added, We recognize that collectively we of- fer businesses the opportunity to engage in an inclusive atmosphere and look forward to further collaboration."
The partnership agreement offers members of both organizations' cross promotion and attendance at respective events and programs.
Dr. Kennedy E. Jacobs Sr., president of the Urban Chamber of Volusia Flagler Counties, stated that "Equity can never be realized without putting weight on the scale. The Urban Chamber of Commerce of Volusia/Flagler County seeks to add value to Volusia and Flagler business community, and the urban sector."