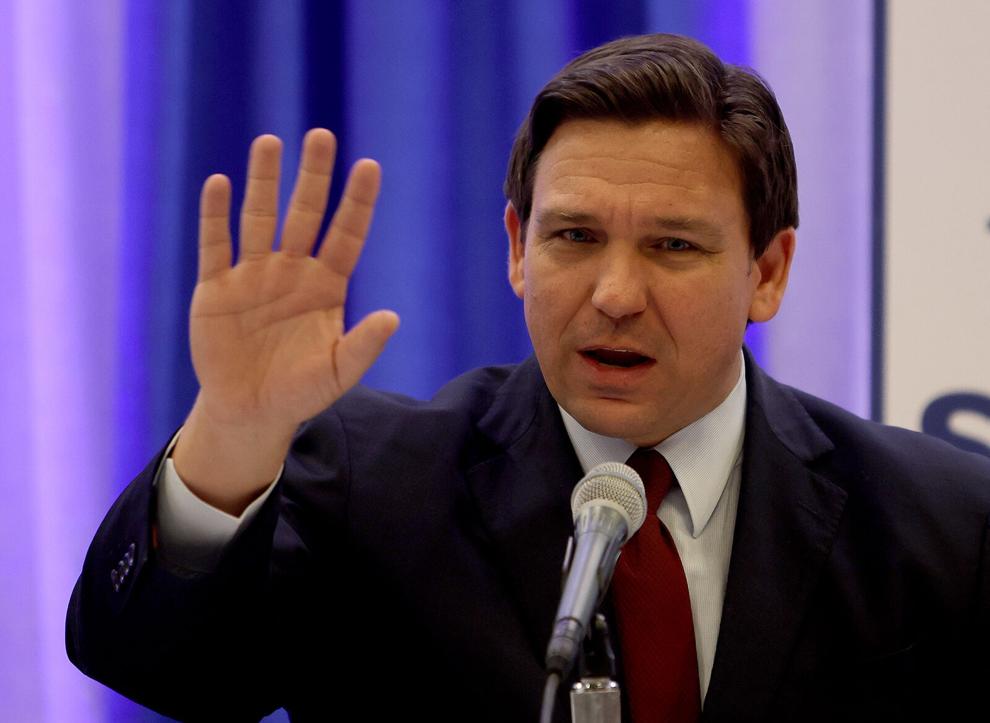 Rejecting criticism that it would harm the LGBTQ community, Gov. Ron DeSantis on Monday signed into law the controversial measure derided as the "don't say gay" bill.
"We will make sure that parents can send their kids to school to get an education, not an indoctrination," DeSantis said at the Classical Preparatory School in Spring Hill. The school chosen for the bill-signing ceremony was founded in 2011 by Anne Corcoran, the wife of state Education Commissioner Richard Corcoran, who is also a former Republican speaker of the House.
House Bill 1557, officially known as Parental Rights in Education, was passed by the Legislature earlier this month. It will prohibit discussion of sexual orientation or gender identity in schools up to the third grade and limits it to "age-appropriate" students in higher grades. Parents will also be able to sue school districts over the issue.
Republicans argued the bill protects parental rights, while Democrats and LGBTQ advocacy groups contend it was intentionally vague and could have a chilling effect on teachers, students and the LGBTQ community. The bill has also been criticized by Disney CEO Bob Chapek, who suspended the company's political contributions in Florida in response.
The bill has gained national attention for weeks, with Oscars co-host Wanda Sykes joking Sunday, "We're going to have a great night tonight. And for you people in Florida, we're going to have a gay night."
On Monday, DeSantis said: "I don't care what corporate media outlets say, I don't care what Hollywood says, I don't care what big corporations say. Here I stand. I'm not backing down."
Critics have cited specific concerns over parts of the bill, including the unclear wording about banning classroom instruction on "sexual orientation or gender identity" that isn't "age appropriate." They note that the word "or" within the law means it could be enforced beyond kindergarten through third grade.
The full sentence reads, "Classroom instruction by school personnel or third parties on sexual orientation or gender identity may not occur in kindergarten through grade 3 or in a manner that is not age appropriate or developmentally appropriate for students in accordance with state standards."
Corcoran said the state will determine the definition of "age appropriate," adding that "people know what age appropriate is" and that most teachers "want guardrails."
An amendment from GOP state Sen. Jeff Brandes that would have widened the classroom instruction ban to "human sexuality," instead of orientation and identity, failed to pass.
The bill's Republican sponsors were openly vocal about the bill targeting LGBTQ students by the time it passed, with state Sen. Dennis Baxley complaining about "everybody now is all about coming out when you're in school."
Despite the specific criticisms over the bill's language, DeSantis has continued to claim that opponents, including Chapek, hadn't "bothered to read the bill."
DeSantis claimed Monday that some opponents have read it but support "injecting woke gender ideology" and "are trying to camouflage their true intentions."
Chapek, who has been slammed by LGBTQ groups because of his initial silence on the issue, apologized to employees after the bill passed the Legislature.
"You needed me to be a stronger ally in the fight for equal rights and I let you down," Chapek wrote in the letter, in which he announced Disney would pause all political contributions in Florida and work to oppose similar bills in other states.
Disney, the largest single-site employer in Florida with about 60,000 workers, had given about $55 million to Republicans, Democrats and political committees in the state over the past 28 years, including about $5 million in 2020 and more than $2 million in 2022, state records show.
The company had also contributed more than $100,000 to the Friends of Ron DeSantis PAC since 2019.
The company also pledged $5 million to LGBTQ groups, but one of the largest, the Human Rights Campaign refused Disney's money "until we see them build on their public commitment."
An employee walkout in protest of the bill took place last week in California. But in Florida, Unite Here Local 362 did not support the walkout because it violates a no-strike provision of its contract with Disney World. Only one person was observed openly protesting in Orlando.
Classical Prep has a chapter of the conservative student group Young Americans for Freedom, which has strongly backed the bill. At the ceremony, several children stood behind the governor holding signs that read "Protect Children, Support Parents."