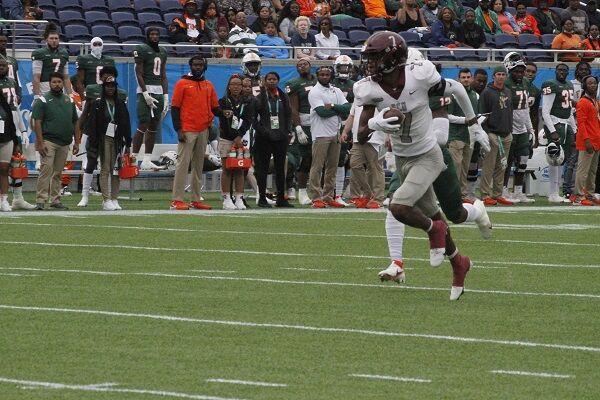 Florida A&M University (FAMU) defeated Bethune-Cookman University (B-CU) 46-21 in the Florida Blue Florida Classic at Camping World Stadium in Orlando on Nov. 20. 
Florida A&M (9-2, 7-1) snapped B-CU's nine-game winning streak in the series.  
"It's an exciting time for our program and our university. Our kids played Rattler football and I am proud of them. It's a great team win," said Willie Simmons, Florida A&M's head coach.
Terry Sims, Bethune-Cookman's head coach, added, "You can say that we didn't play hard, but we just made too many mistakes and didn't finish how we wanted." 
The Rattlers made 30 points in the third quarter and 26 points off four Wildcats turnovers.
Bethune-Cookman (2-9, 2-6) turned the ball over on three consecutive possessions in the third quarter, which all resulted in points for the Rattlers.
Orlando native B.J. Bohler had four tackles, a forced fumble, fumble return touchdown and an interception. He was named MVP for FAMU. 
Devin Black threw for 231 yards with three touchdowns and earned MVP status for B-CU.
Florida A&M (9-2, 7-1) is on a nine-game winning streak and finished second in the Southwest Athletic Conference (SWAC) East Division behind Jackson State.  
The Rattlers earned an at-large bid to the Football Championship Series playoffs and will play at Southeastern Louisiana (8-3) on Nov. 27 in the first round. It's the Rattlers' eighth playoff appearance and first since 2001. 
The Nov. 25 print issue of the Daytona Times will include more Florida Classic highlights and photos.