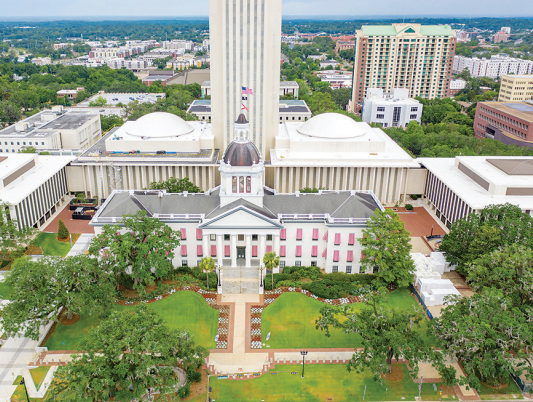 A Republican state senator offered an amendment to the so-called "don't say gay" bill on Feb. 28 in an attempt to reduce partisan tensions over one of the most controversial measures of the legislative session.
His GOP colleagues voted the idea down, then voted to move the bill to a full Senate vote.
Sen. Jeff Brandes, R-St. Petersburg, argued that his amendment would fix the most contentious portion of  House Bill 1557, which would bar schools from teaching lessons on gender identity or sexual orientation in kindergarten through third grade — or in ways that are not age appropriate or developmentally appropriate in other grades.
Instead of restricting schools from teaching young kids about sexual orientation and gender identity, Brandes' amendment would have stopped schools from conducting lessons on "human sexuality or sexual activity."
"If the intent is not to marginalize anyone. Let's make sure we aren't," Brandes said. "Let's be clear and clearly define and say that conversations about human sexuality or sexual activity that fall outside of state guidelines should not occur. We can do this."
Sen. Dennis Baxley, R-Ocala, the bill's sponsor, argued the amendment would "gut" the bill, but he did not elaborate. It was voted down mostly along party lines.
Last week, Rep. Carlos Guillermo Smith, D-Orlando, offered a similar amendment to the House bill. It was voted down in that chamber, as well. Smith, one of the few openly gay members of the Legislature, appeared at the Senate committee Monday hoping to testify on Brandes' amendment, but he was not permitted to speak by committee chairperson Kelli Stargel, R-Lakeland.
'Partisan messaging'
Supporters of the bill, which appears to be headed toward passage, say its provisions have been distorted by partisan messaging. They argue parents should have control over what students learn at school.
They support the measure because it would allow parents to be apprised of any major changes in a student's health or well-being — including if they begin to express a sexual or gender identity, they may not feel comfortable expressing at home.
Under the bill, schools are allowed to keep a student's sexual or gender identity from parents if they suspect the disclosure could lead to "abuse, abandonment, or neglect." A House proposal to alter that section was withdrawn from consideration last week, following fierce pushback from Democrats and advocates.
Critics of the bill, including most legislative Democrats, argue that it singles out sexual orientation and gender identity in classroom instruction. They argue the bill is vague and would have a chilling effect on teachers having honest discussions with students about their circumstances.
Under the bill, if a parent believes their child's school has violated the measure's provisions, they can sue their school district or take their concerns to the State Board of Education.
At an emotional Senate committee hearing Monday, dozens of speakers — including several students and teachers — came to Tallahassee to weigh in on the bill.
Will Larkins, 17, the president of the queer student union at Winter Park High School, said they knew they were gay and gender non-binary since before kindergarten.
"I have heard different members of the Legislature say something along the lines of, 'Parents know what's best for their kids.' When it comes to the queer community, that is not true," Larkins said. "If parents know what's best for their kids, why did my best friend get kicked out of his house and have to live with me?"
Gender identity battle
The debate over gender identity discussions in the classroom comes as a broader fight over transgender rights plays out in the conservative political arena.
More than a dozen other states are taking up measures limiting how schools can handle gender identity or sexual orientation in schools.