Pan-Hellenic Council of Volusia County established in 2009
BY JAMES HARPER
DAYTONA TIMES
Johnnie D. Moore, current president of the Pan-Hellenic Council of Volusia County, says the organization is the best-kept secret in Daytona Beach.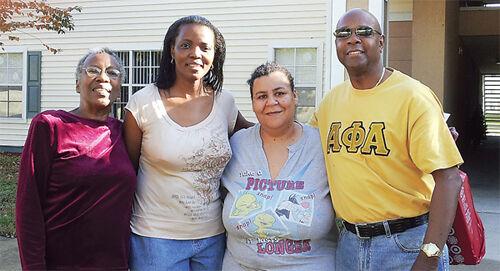 First organized in 2009 by Al Bouie, an employee at Bethune-Cookman University, the Pan- Hellenic Council is composed of members from what's called the "Divine Nine" – Kappa Alpha Psi, Alpha Phi Alpha, Phi Beta Sigma, Omega Psi Phi and Iota Phi Theta fraternities along with   Alpha Kappa Alpha, Zeta Phi Beta, Delta Sigma Theta and Sigma Gamma Ro sororities.
"We are a 501 (c)(3) pending organization and are looking to partner with any individual or organizations in the area that are looking to make a difference to the people and living situation throughout the county," Moore said.
He explained that there are several hundred members in the individual organizations who have pledged financially and physically to support the Pan-Hellenic Council and its initiatives.
The Pan Hellenic Council meets on the second Monday of each month at Uno's restaurant on International Speedway Boulevard in Daytona Beach at 6 p.m.
Supporting events, causes of others
The council's first mission was identifying the needs and concerns in the Volusia County.
Moore said members have raised funds by taking part in a juvenile diabetes walk at Embry Riddle University followed by two clothing drives to provide coats and blankets during the winter months to the homeless and business attire to those who were seeking employment.
Moore said the council also supports events organized by member organizations, including the Alpha Kappa Alpha's cancer walk at the Volusia Mall to raise funds and awareness for those living with cancer.
Every fifth Sunday, the council selects an area church in the county and attends as a group.
Each Thanksgiving and Christmas, The council gives food baskets, clothing and toys to selected families throughout the county.
"We will continue to reach out to families in order that they may also enjoy the holiday seasons," Moore said.
Greek Cookout set for May 19
The council is planning to host a blood drive along with an HIV testing event at Daisy Stocking Park in August. Moore said the council also will be doing voter registration in conjunction with the NAACP at this time.
There is a social side to the Pan-Hellenic Council with a recurring Smooth Groove Sunday from 7 p.m. to 11 p.m. every fourth Sunday at the Blue Grotto.
On May 19, the council is hosting its first Greek Cookout at Ponce Deleon Springs Park from 11 a.m. to 4 p.m. with food, drinks and entertainment provided at a low cost.
The public is invited to attend.
Kappa ball takes place Friday
A program for fathers and sons also is scheduled.
"We have partnered with the Daytona Beach Housing Authority and will take part in June in a program designed to reconnect fathers and sons as well as showcasing the roles of fathers in households," Moore added.
Upcoming events of member organizations include the Kappa Alpha Psi Black and White Ball, on May 4 at the Plaza resort and Delta Sigma Theta's White Linen Party on Aug., 25.
For more information, contact Moore at mistermoore1@yahoo.com or call 386-405-9890 or 386-290-4707.