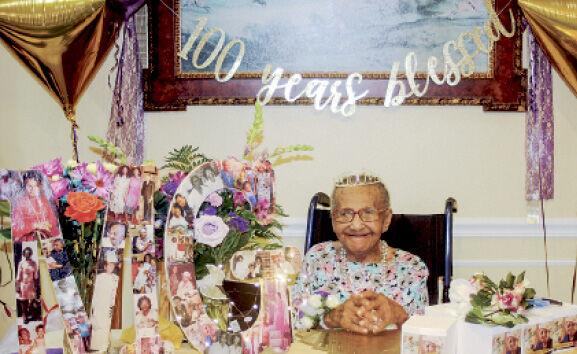 Happy at 100: Palm Coast 
woman celebrates, gives sage advice
BY DAYTONA TIMES STAFF
Marjorie Violet Graham of Palm Coast celebrated her 100th birthday last weekend with two celebrations – one in Palm Coast and another in St. Augustine.
She also shared nuggets of wisdom, including advice on staying healthy and happy, including this one: "Stay happy. Don't be upset for too long. Life is short.''
A birthday party was held for her on July 21 at Good's Sam's Assisted Living Residence in Palm Coast, where she resides. About 40 family members and friends helped her to celebrate.
On Sunday, she attended service at her church at Christ the King Anglican Church in St. Augustine. A birthday fellowship was held in her honor after the service.
Nanny, caregiver
She was born on July 21, 1918 in Roseau, Dominica, British West Indies. She moved to New York in December 1979 to assist her only daughter in raising her three grandchildren. The family moved to Palm Coast in 1988. She now has four great-grandchildren.
Her early years were spent as a nanny and a caregiver in Dominica and New York.
According to her family, she is an active member of Christ the King Anglican Church and looks forward to worshiping with her church family there once or twice a month.
Special interests have included serving in church ministries such as the Daughters of the King and the choir. She has stayed healthy and well through walking and interacting with others. She also has enjoyed crocheting and tatting.
Tamara Gibson-Alonso, who grew up in Palm Coast and now lives in Jacksonville, had these affectionate words to share about her grandmother: "She recalls more than most and she is very upbeat with a depth of wisdom to share.''
Her family shared these words of wisdom passed along from her on wellness, longevity and getting along with others.
Thank God for life. Find value in every day, year after year.
Take good care of your body, eat fresh foods and healthy drinks (including a shot of wine or brandy from time to time, or daily).
Get a quality education and don't stop until you've reached your goals.
Ask for what you want and be clear about it; do not be afraid to voice your opinion.
Admire and appreciate nature, the clouds, the flowers and trees, the ocean, the sky.
Pray and meditate daily. We came into the world alone and we will answer to God alone.
Stay connected to our Heavenly Father. Trust and truly believe that God will take care of you.
Remember kind deeds that people do for you and express gratitude.
Take negative people and situations to God and leave it there; do not harbor ill feelings.
Children are a blessing from God and they are full of joy and happiness. Cherish these moments.
Offer structure and sound guidance to children; always keep the upper hand.
Treat others the way you would want to be treated and associate yourself with like-minded people.