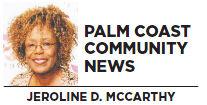 Community activist/promoter Loyce Nottage Allen shares that so much is going on in the world and in the community, and no one is laughing enough.
"Just take a look around," she paused. "Everyone appears angry and/or uptight!"
Allen notes that nothing diffuses anger and conflict faster than a shared laugh.
She takes notice that while looking at the funny side, it can put problems into perspective and enable us to move from confrontation, without holding on to bitterness, or resentment.
Comedians coming

She says that a study in Norway found that people with a strong sense of humor outlive those who do not laugh as much. The difference was particularly striking for those battling cancer.
And that's why Allen asserts, "I am bringing a production of five comedians from Charlotte, North Carolina, who are known as the Grown Kids Cartel, an E-Nuff Gospel Comedy Show!"
It's a lineup of comedians, featuring Julio Hennessey, Big Wen, The Clean Comedian Adrienne, Sister Big Bones, and comedy host NuffCed!
"They will have you out of your seats, on your feet, lying on the floor, and/or crying and laughing at the same time for more!" Allen added.
The show will be accompanied by Adrian Worsley, keyboardist, with a soon-to-be announced drummer.
The proceeds from the show will benefit the Flagler County Branch of the NAACP.
May 18 show
The E-Nuff Gospel Comedy Show will be presented May 18, 7 p.m., at the African American Cultural Society, 4422 U.S. 1 North, Palm Coast. The doors will open 6 p.m.
Advance tickets are $20, or $28 at the door. A block of 10 tickets is $180. Vendor space, moreover, is available at $35 per space.
Don't miss this gospel comedy show.
For further details, call 609-412-3049.
Clergy Alliance sets Good Friday service
The Daytona Beach Black Clergy Alliance invites you to "The Seven Last Sayings of Jesus from the Cross." It will be presented at New Life Church Ministries, 1625 Derbyshire Road, Daytona Beach.
That's Good Friday, March 30, 12 p.m., for this spectacular community-wide service.
All are welcome and encouraged to celebrate the season with the seven dynamic preachers:
Bishop C. W. Maddox, Raising Up Nations Ministries, First Word, Luke 23:34, "Father forgive them for they know not what they do."
he Rev. Charlene E. Cothran, The Evidence Ministry, Inc., Second Word, Luke 23:43, "Assuredly, I say to you, today you will be with Me in Paradise."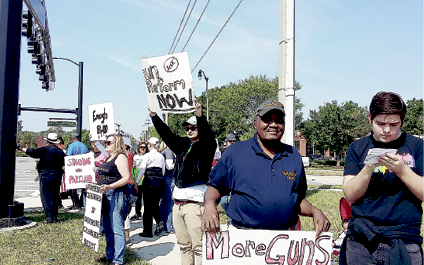 The Rev. Lenorris Dixon, pastor, Shiloh Baptist Church, Third Word, John 19:26, "Woman, behold your son!"
The Rev. Jeffrey Robinson, pastor, Mt. Carmel Baptist Church, Fourth Word, Mark 15:34, "My God, My God, why have you forsaken Me?"
Dr. M. L. Kaufman, pastor, Tubman-King Community Church, Fifth Word, John 19:28, "I thirst."
The Rev. Larry Edwards, pastor, St. John Baptist Church, Sixth Word, John 19:30, "It is finished."
Bishop William Lee, senior pastor, Daytona Deliverance Church of God, Seventh Word, Luke 23:46, "Father, into Your Hands I commit My Spirit."
If you have questions, New Life Church Ministries, pastored by the Rev. Dr. Victor Gooden, can be contacted at 386-677-6222.
Pyramid Players plan golf tourney
The Pyramid Players Golf Tournament of April 7 will take place at Cypress Knoll Golf & Country Club, Palm Coast.
The tournament is sponsored by the African American Cultural Society.
It's a best-ball scramble format, two free mulligans per player; however, mulligans cannot be used to putt.
April 2 has been earmarked as the deadline entry date.
The entry fee is $75.
Registration will begin 7:30 a.m., April 7; the shotgun start, 8:30 a.m.
Chairman John Reid announced that the Awards Ceremony and Luncheon will take place in the restaurant at the golf club.
Door prizes, goody bags, and a 50/50 drawing are all part of the fun – including low-gross first and second prizes, low-net first and second prizes, closest-to-the-pin prizes for men and women players, as well as longest-drive prizes for both.
A hole sponsorship will be at a cost of $50 per sign.
How to register
Checks may be payable to the African American Cultural Society before the April 2 deadline, and mailed to the African American Cultural Society, P.O. Box 350607, Palm Coast, Florida 32135-0607.
Payments also can be dropped off at the African American Cultural Society, 4422 U.S. 1 North, Palm Coast. The hours are Mondays through Fridays, 10 a.m. to 2 p.m.
For online payment, log on to www.aacspc.eventbrite.com.
For further details, contact committee members Richard Barnes at 386-503-0908, and/or David Phillips, 201-207-8210.
The African American Cultural Society is a 501(c) (3) non-profit organization, which is involved in cultural and community activities in the Flagler/Palm Coast community.
Flagler residents participate in march
Loyce Nottage Allen posted that Flagler County residents showed up and showed out Saturday for the "March of Our Lives" protests. The demonstrators assembled on the corner of Palm Coast Parkway and Boulder Rock Drive.
Allen posted, "Great participation, lots of positive shout-outs, horns blowing, and thumbs up!"
Allen posted the message on a Flagler NAACP Facebook page involving the satellite marches in Palm Coast, around the world, and anchored to the main demonstration in Washington, D.C.
The branch, moreover, sponsored a Flagler County youth delegation to participate in the "March for Our Lives" in Parkland. The kids were insured participation through tee shirts, signage, and other resources.
Tony Pearson Insurance Agency was another sponsor for the delegation.
'Save the children'
The protesters called for school safety and tougher restrictions on guns in the wake of last month's shooting of 14 students and three adults at Marjory Stoneman Douglas High School in Parkland.
The youth delegation was accompanied by Dr. Phyllis Pearson, the branch's education chair; and founder/president Arnold C. Anderson, MSW, Inspiring Our Youth 'A' Game, the delegation organizer.
"We must save the children!" Allen continued. They are our future!"
"Get ready people," she added. "A change is on the horizon!"
As always, remember our prayers for the sick, afflicted, the prodigal son, or daughter, and the bereaved.
Celebrations
Birthday wishes to Shirley Jones and Cynthia Durbin, March 29.