The 2017 Bandshell Live Summer Concert Series kicks off in Daytona Beach at 7 p.m. May 26 with Pocket Change. The concerts will continue every Friday night through Sept. 22.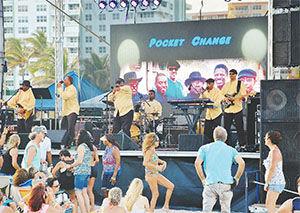 The Bandshell Live Summer Concert Series, in its ninth year, takes place on Friday nights at the amphitheater located in Oceanfront Park on the north end of the Boardwalk amusement area and overlooks the Atlantic Ocean at 250 N. Atlantic Avenue.
Tickets for each Friday night are $3 for general admission and $10 for VIP tickets, (which include a chair), plus applicable fees. Children under 10 are admitted free. Tickets can be purchased in advance for the season at Ticketmaster.com, onsite at the Peabody Box Office or at the Bandshell on show nights.
Variety of music
"We have been working over the past two years to not only bring our citizens and visitors the best in local talent but also to expand the series to include awesome tribute bands playing everything from funk and pop to country and classics," said Helen Riger, director of Cultural Services & Community Events for the City of Daytona Beach.  "We are very excited about this year's lineup and our concert schedule expansion through September 22nd."
Pocket Change, a South Florida-based band, is a local favorite returning from last year's lineup with opening act Derryck Lawrence. Pocket Change mainly plays party, funk R&B Variety and soul, including songs from the Isley Brothers, the Temptations and Four Tops, Earth, Wind and Fire and the Commodores.
Series lineup
May 26: Derryck Lawrence and Pocket Change
June 2:  Glenn Wiley along with the Kool and the Gang Tribute Band
June 9: Chance Gardner and the Santana & Doobie Brothers Tribute Band
June 16: Liara Iler, Cash and Friends
June 23: John Nickoloff & Friehds, "Jaded'' Aerosmith Tribute Band
June 30: Claire and Chip Vandiver, "1984" Van Halen Tribute Band
July 7: Eric Harris, Tina Turner & Blues Brothers Soul Review
July 14: Julie Saylor, "Caribbean Chillers" Jimmy Buffett Tribute Band
July 21: Johnny Reed Foley, "Country Legends" Garth Brooks and Shania Twain Tribute Band
July 28: Michelle Marie, David Oliver Willis and the Blacksliders
Aug. 4: Jennifer and Steve Simmons, "KC 70s Flashback" KC & The Sunshine Band Tribute
Aug. 11: Tie-Dye Road and the "Uncle John's Band" The Grateful Dead Tribute Band
Aug. 18: Jessica McNear, Greg West as "Ultimate Aldean"
Aug. 25: The Transfers, Are Friends Electric- Jeremy & Andrea Mix
Sept. 1: Melisa Tenbroek and Mark Wood, "Cowboy" Kid Rock Tribute Band
Sept. 8: Dakota Jean, "The Wildflowers" Tom Petty Tribute Band
Sept. 15: Willy Bouton, "Fast Forward" Kenny Chesney Tribute Band
Sept. 22: John Modelli, "U2 By UV" U2 Tribute Band
Parking and sponsors
Bandshell parking is available at the nearby Ocean Center garage and surface lots. Attendees may enter the Bandshell area by parking in the parking garage and using the pedestrian overpass.
Rental chairs, food and beverages by Sloppy Joe's restaurant and adult libations are available.
Area businesses and concessions offer a variety of jewelry and other items for sale.  No blankets, coolers or backpacks are allowed.
Corporate and individual sponsors, volunteers, and ticket sales help make these concerts possible. The Bandshell Live Summer Concert Series title sponsor is the City of Daytona Beach. Presenting sponsors are Sloppy Joe's, 93.1 Coast Country, 94.1 HOT FM, 99.5 LOV FM, and 103.3 The VIBE and the Daytona Beach News-Journal.
For more information, visit www.daytonabandshell.com.