The event, hosted by the police department, brings together law enforcement and the community.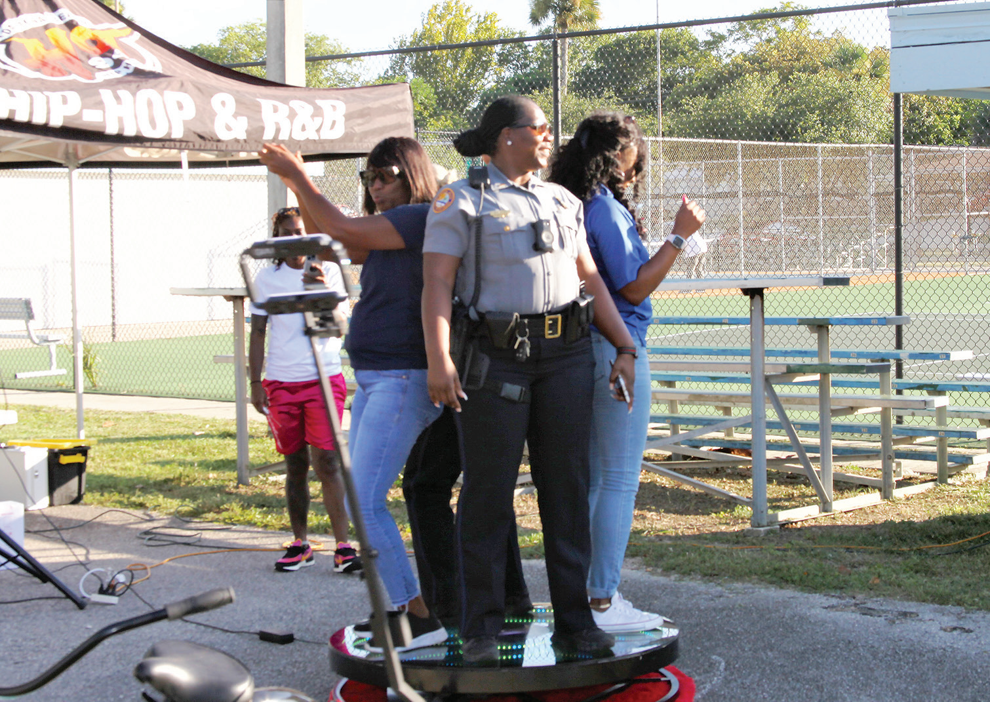 The community came out and supported local law enforcement on Aug. 9 for the National Night Out event at Derbyshire Park in Daytona Beach. The Daytona Beach Police Department hosted the local event.
According to its website www.natw.org, National Night Out is a national community building campaign that promotes police and community partnerships.
The website further states that National Night Out enhances the relationship between neighbors and law enforcement while bringing back a true sense of community. It also provides a great opportunity to bring police and neighbors together under positive circumstances.
In Daytona, the National Night Out celebration event featured information on services in the community, which included health care and education.
There also was a voter registration table, live music by a deejay, dancing, games, and raffles of bicycles and other items. 
Attendees munched on free hot dogs, hamburgers and chips.
In addition, kids attending got to talk to and hang out with both police and firefighters.
'A great success'
This was the first local National Night Out event since 2019. The coronavirus pandemic canceled the event over the past two years.
"The first since COVID. I am extremely excited about this. I think this is what is needed in our community. I am happy with the turnout. Everyone is having a great time and it's been a great success," said Daytona Beach Police Chief Jakari Young. 
Jasmine Horn told the Daytona Times, "It's great that they are doing this and brining the community together. They have a little something for everybody. It's also good right before the kids go back to school. It is a positive thing. I am enjoying it."
Local leaders also were glad to have authorities and the community together.
"We're excited to have this event with our police and the community. The chief has done a fantastic job with his staff to bring this event," expressed Zone 5 Commissioner Dannette Henry.
"The best part about this is getting people back together after the pandemic shut things down and kept the community away from one another,'' she added.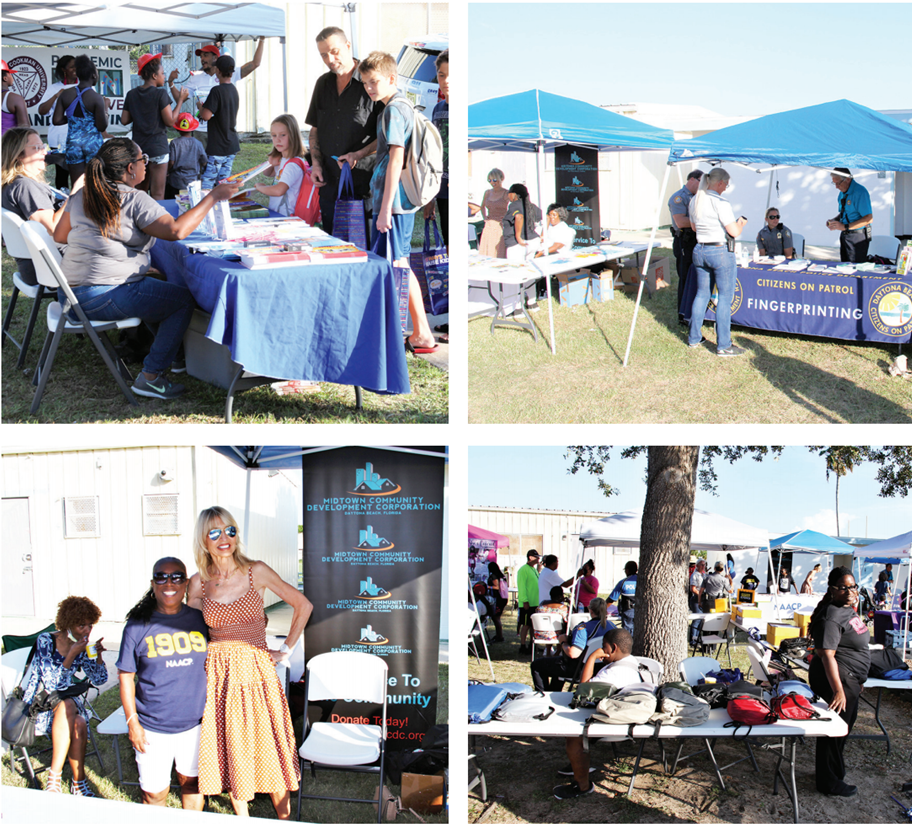 Community support
The Daytona Beach Police Department prides itself on community engagement which National Night Out promotes.
Young emphasized, "I think that is our core because without community support, we would be highly ineffective. Community support is huge for law enforcement. I think we are very blessed in this community. We don't see a lot of the issues here that we see in other areas of the country and events like this helps with that."
Law enforcement also believes that events like National Night Out are important for police and community relations.
"This event bridges the gap. It gives officers a chance to interact with the community outside of a 911 call, car accident or a call. If we do that, it is a failure. We need to be able to engage with each other at all times," noted Young.
National Night Out has grown and progressed in the city. Historically, the event has been held at the Midtown Cultural & Education Center or Cypress Park on Geroge W. Engram Boulevard. This was the first time it was held at Derbyshire Park.
"I think it is grown tremendously. We used to have it in Midtown. We had good crowds over there. This crowd is great. I think we have advertised it better as of late," Young added.
Block parties, parades and more National Night Out started in August 1984 through an already established network of law enforcement agencies, neighborhood watch groups, civic groups, state and regional crime prevention associations and volunteers across the nation.
The first annual National Night Out involved 2.5 million neighbors across 400 communities in 23 states.
National Night Out has grown from a celebration beyond front porch vigils and symbolic efforts among neighbors to send a message of neighborhood camaraderie.
Neighborhoods across the nation now host block parties, festivals, parades, cookouts and various community events with safety demonstrations, seminars, youth events, visits from emergency personnel, exhibits and more.
For more on National Night Out, visit www.natw.org For more on the Daytona Beach Police Department, visit www.codb.us/280/Police-Department.