Unlike last year, the large crowds caused few problems over the holiday weekend.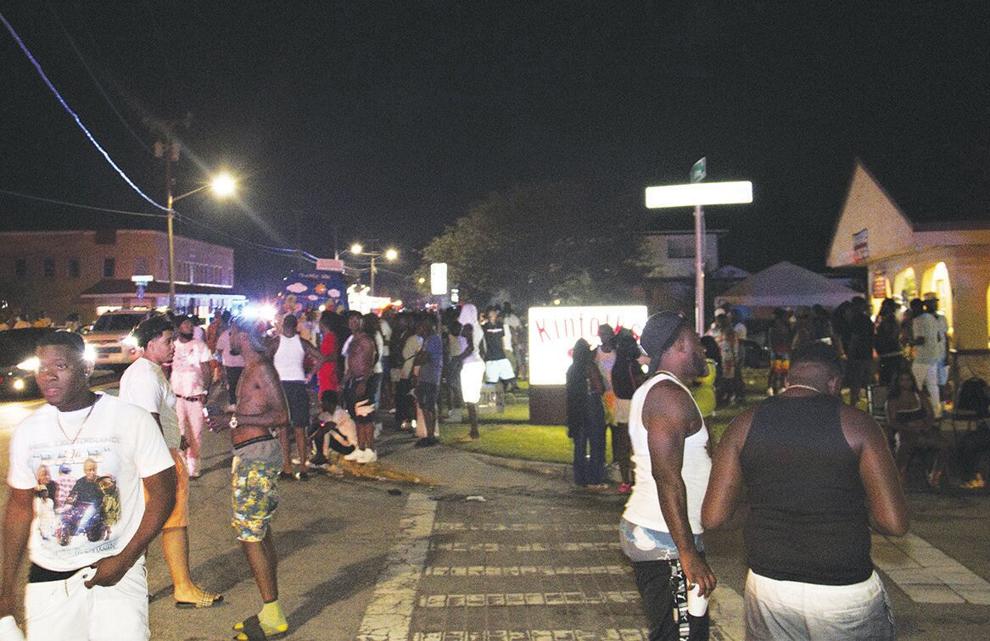 Daytona Beach is a world-famous destination that attracts large crowds.
During the holidays, the beaches and surrounding areas are packed. Last weekend was no exception.
Large crowds were reported in town all weekend in Daytona Beach.
An event dubbed Orlando Invades Daytona was advertised on social media, primarily on Facebook and Instagram. It brought thousands of young African Americans to town last weekend.
By Saturday afternoon, large crowds had migrated to Dr. Mary McLeod Bethune Boulevard (historically Second Avenue) between Lincoln Street and Keech Street.
By night, law enforcement had blocked off the road to traffic in that corridor.
The crowds were originally slated to  be at the boardwalk on the beach-side.
Limited beach access
Crowds along the beachside were so large that bridges were closed inside the city limits with the only access to beachside via the Grenada bridge in Ormond Beach and Duulawton bridge in Port Orange.
Some of the visitors that were on Dr. Mary McLeod Bethune Boulevard on Saturday night said they had fun and were treated well.
Kayla Lowe came from Orlando with some of her friends.
"My best friend wanted to come here and have a good time, so we did. I think they treated us good. We never made it to the beach. We've come here before. We plan to come to the next," Lowe said.
There were some dissatisfaction from the visitors, especially with how things played out on the beach.
A woman who would only identify herself as Jay Diamond told the Times, "They kicked all the n****** off the beach but not the White folks."
Another woman who traveled from Ocala and wished to remain unanimous just wished there were more to do.
She said, "My time here was OK but they kind of ran us from place to place. We couldn't just chill anywhere. We really had nowhere to go. They did run us off the beach."
No major problems
The Daytona Beach Police Department reported no major issues.
"We had no major problems. There were a lot of people here. We didn't pepper spray anyone, we didn't call in SWAT, we didn't tear gas anyone or have a dog bite anyone," responded Police Chief Jakari Young.
To handle crowds city-wideespecially on the beach – the police had assistance from the Volusia County Sheriff's Office, county Beach Patrol and the state Department of Corrections.
"I am very proud of our officers and how they handled themselves including the other agencies that helped. We were extremely outnumbered," noted Young.
"I told my officers it would be a long day but to pack three things – their patience, professionalism, and don't panic."
Public safety concerns
Authorities were scrutinized for closing the bridges but say it was necessary.
"I shut down the bridges once Beach Patrol decided to close the beach to non-residents. We had to push people back to the mainland because the crowds were too large, and the beach was overcrowded. I didn't want people in the road with traffic. It was temporary and for public safety," stressed Young.
Law enforcement also monitored potential gun activity.
Young expressed, "I was getting information on social media that folks were in town carrying guns and some were on their way. So, we made sure they didn't get there."
Law enforcement also occupied crowds at other events, including a concert series at the Daytona Beach Bandshell and a block party on Main Street.
"It was a big holiday weekend. The hotels were at capacity. The beaches were crowded, and we had scheduled permitted events on Saturday," said Young.
"The Invade Daytona event was advertised on city property but there wasn't a permit."
Second year
This wasn't the first time an Orlando Invades Daytona event has taken place. Last year, the same event garnered national headlines due to large crowds during the coronavirus pandemic. There was a shooting and the beachside was held up during a music video shoot.
"The previous year we had a shooting at 35 S. Atlantic near the 7-Eleven where two people shot. It was during a pandemic, and it brought national news. We also had the guy throwing money holding up traffic while filming a rap video," Young recalled.
"The beachside just got over capacity. I took some heat, but I sup- port my decision. I did it for public safety. They would have just been there sitting in traffic not able to go anywhere,'' he added.