The 24-year-old has succumbed to gunshot injuries; suspect facing
new murder charge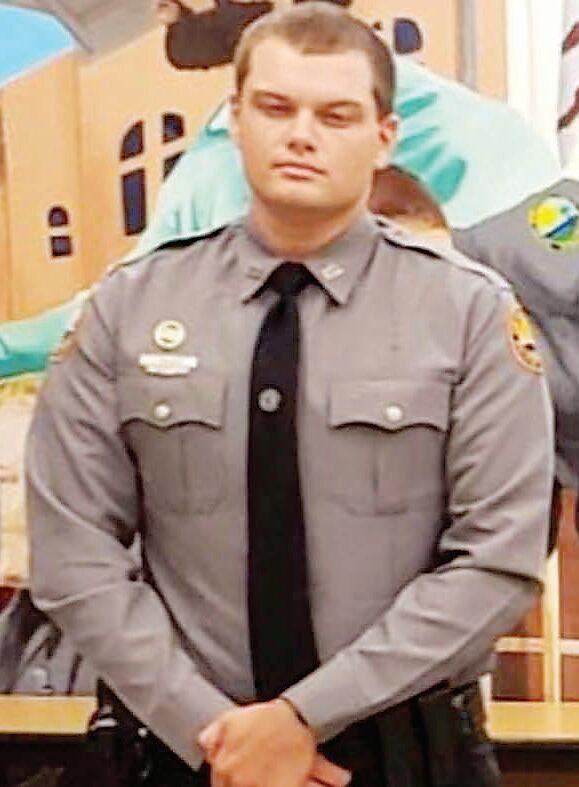 "Jason's sacrifice will never be forgotten."
Those were the words from Daytona Beach Police Department Police Chief Jakari Young on the passing of Officer Jason Raynor who died on Tuesday.
Officer Raynor, 26, died at Halifax Hospital on Tuesday night, where he had been in critical condition since being shot in the head on June 24 at the 100 block of Kingston Avenue. Othal Wallace, 29, has been charged in his death. 
"We ask for all of you to embrace the Raynor family and the Daytona Beach Police Department (DBPD) in your hearts during this devastating time and pray that God will give us all the strength to persevere through this senseless tragedy," Young said in a statement released by the police department.
Change in charges
On Wednesday morning, the Florida 7th Judicial Circuit State Attorney R.J. Larizza's Office updated Wallace's charges to first-degree murder of a Daytona Beach police officer from the previously attempted first-degree murder.
Wallace remains in custody at the Volusia County Jail.
"I would like to thank everyone at the State Attorney's Office for pursuing justice in this case," commented Young.
"We fully support R.J. Larizza and his staff. We will do everything in our power to assist them in this pursuit of justice for the Raynor family, the men and women of the Daytona Beach Police Department and all law enforcement officers everywhere."
Seeking death penalty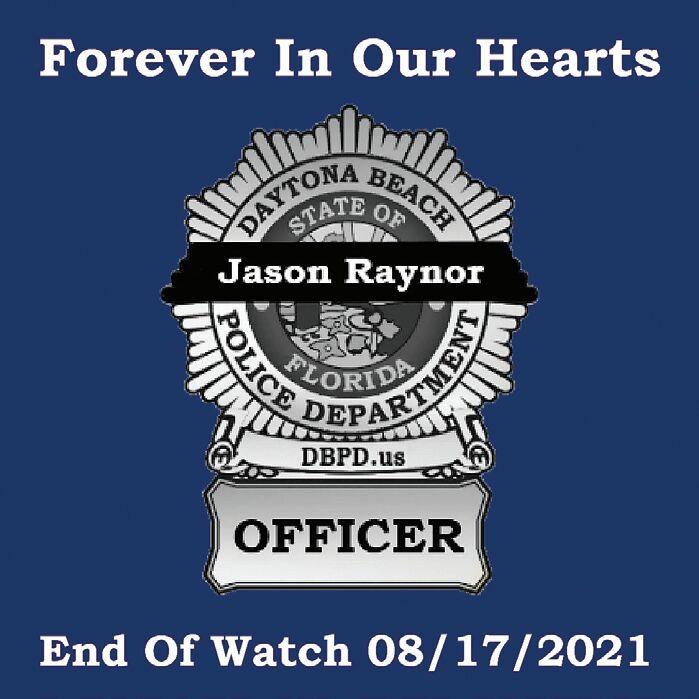 The State Attorney's Office will also seek the death penalty.
"Our prayers are with the family of Officer Jason Raynor, Daytona Beach Police Department and all our brothers and sisters in law enforcement today," Larizza stated.
"We will proceed with our solemn mission to hold Raynor's murderer accountable. Justice equals accountability and justice demands the death penalty."
Wallace sent law enforcement on a 56-hours manhunt. He was captured near Atlanta and taken to Dekalb County jail on June 26 by a multi-agency task force, which included three members of the DBPD.
A search warrant was served on a three-acre property outside of Atlanta by the FBI, U.S. marshals, Homeland Security, Georgia State patrol and Dekalb County police.
When arrested, Wallace was in possession of several weapons including two rifles.
Responded to suspicious activity call
Raynor spent three years on the police force. He was not married. His mother and sister had been at his bed- side from the time of his shooting.
There was a $200,000 reward out for anyone with information leading to Wallace's arrests. The reward was increased quickly increased from $100,000.
Initial body cam footage released to the media showed Raynor approaching Wallace and asking him did he live there.
Raynor was responding to a suspicious activity call.
The DBPD says that area of Kings- ton Avenue has had increased reported crime, specifically weapons complaints, aggravated assault and narcotics.
Raynor is the 10th Daytona Beach police officer to die from injuries sustained in the line of duty. The last was Kevin Fischer in 1998. In 2018, Thomas Coulture died from injuries sustained in a training exercise.
Donations being accepted
Funeral services for Raynor had not been received by the Daytona Times by the newspaper's Wednesday night deadline.
Anyone who wants to send their condolences or offer a donation in his memory can do so by contacting JasminskiHeather@DBPD.us or call 386-671-5364.
"We ask that anyone who would like to send their condolences or offer a donation or do something on behalf of the Raynor family to please contact the police department instead of going directly to the family. We hope this will ease some of the burden on them," Young said.
In coordination with the family of Officer Raynor, a wreath-laying service was scheduled Thursday at the Daytona Beach Police Department headquarters at 129 Valor Blvd., where respects were paid in honor of the officer's ultimate sacrifice.
The patrol car normally used by Officer Raynor will be parked in front of the brick wall outside of the front lobby. This will serve as the anchor for where the public can leave any mementos they wish in Officer Raynor's honor.
For more information, visit www.dpbd.us and www.codb.us.