Outraged Black Dems to meet about councilman's comments at church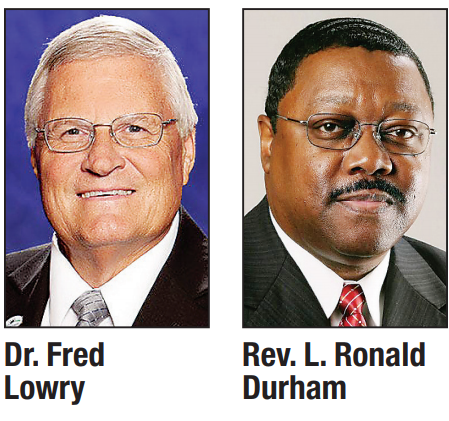 The Volusia County Democratic Black Caucus is calling for Dr Fred Lowry, a Volusia County council member, to resign immediately.
Lowry represents District 5, which encompasses all of Deltona, half of DeBary and most of Osteen.
The Democratic Black Caucus will meet at 9 a.m., Tuesday, June 22 in front of the Thomas C. Kelly Center – 123 W. Indiana Ave., DeLand – before a regularly scheduled county council meeting.
Lowry is under fire for comments he made in support of QAnon conspiracy theories, including the one about the 2020 presidential election being stolen from former President Donald Trump.
Lowry, who is senior pastor at Deltona Lakes Baptist Church in Deltona, made the comments while giving a sermon on May 30 at the church and they were posted on Facebook. The post has since been taken down.
In the sermon, Lowry also stat- ed, "COVID-19 is a lie, the 2020 election was rigged, Hollywood elites were involved in a sex trafficking and are drinking the blood of young children."
Lowry referred to President Joe Biden as "King Joe Babylon'' and medical advisor to the president, Dr. Anthony Fauci, as "Dr. Falsey' and a "pervert." 
'Spreading the big lie'
The Democratic Black Caucus wants action.
"I couldn't believe it when I saw the video," said the Rev. L. Ronald Durham, president of the Volusia County Democratic Black Caucus.
"We are calling for his resignation. He is spreading the big lie," Durham said. "We feel that a position of leadership on the County Council calls for someone to have a little more sound judgment than what Lowry exhibited in that sermon."
The Daytona Times reached out to Lowry but didn't receive a response by the newspaper's Wednesday deadline. Attempts to reach County Chair Jeff Brower for comment also failed.
County Councilwoman Barbara Girtman, who represents District 1 and is the lone African-American on the council, had no comment.
Her recent quote for an Orlando Sentinel story was, "It is something between Lowry and his constituents."
Only Councilwoman Billy Wheeler who represents District 2 has reprimanded Lowry publicly.
Recruiting allies
The Democratic Black Caucus is recruiting others to the call.
"We have spoken with the NAACP on both sides of the county. The community has started flooding Dr. Lowry office's and the church with phone calls. We are also getting calls from people who are saying they will join us on June 22," said Durham.
According to Durham, Lowry's comments shows that locals face the divisions plaguing the nation.
"We aren't exempt or immune from the impact of what is happening in the nation," Durham said. "The Republican party is having an impact on individuals in our backyard.
"It makes you wonder how far reaching it really is. They continue to divide us not just politically but in some cases on racial lines."
The local Democratic Black Caucus is also concerned with recently passed laws that restrict voter rights.
"We are seeing 22 states implementing Draconian new voting rights laws which are harkening back to the era of Jim Crow where there are individuals that feel as if African-Americans should not have the same privileges as others do, particularly in voting," Durham said.
"What I believe the Republican Party has seen is when voting rights are freely and liberally given to all of the population that there is a tendency of the election leaning more Democrat than Republican."
The Democratic Black Caucus plans to fight these new voting restrictions.
"We do plan to fight these laws; we are joining our statewide caucus and others to come up with a plan," said Durham.
Even if Lowry doesn't step down, the Democratic Black Caucus plans to keep calling for his resignation.
"We hope the county council sees the damage this has caused to the recognition of sound leadership on the council. We hope they will do the right thing and reprimand this member,'' Durham added.