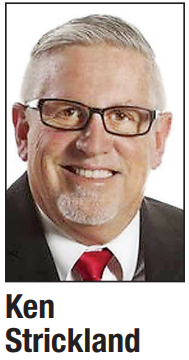 Ken Strickland topped Larry McDermott in the Nov. 2 runoff for the Daytona Beach city commission Zone 2 special election.
Strickland received 761 votes or 52% while McDermott got 691 votes or approximately 48% of the vote. It was a tight margin of just 70 votes.
"I've been working hard for months," Strickland said. "It's not just my win, but it's a win for all those in the community who helped me."
Strickland believes voters chose him because of his community involvement.
"I think I was chosen because I want to represent the people. I've been out, involved and engaged in the community for years," he said. 
'Learned a lot'
McDermott was upbeat despite coming up short in his first run at office.
"Things like this happen. Just like a college football game, we left it on the field," McDermott said. "I learned a lot out there and I met a lot of nice people during this election."
It's unclear at this time if McDermott will seek political office in the future.
"I don't know yet. It depends on what happens," he said. "I'll have to wait three years to see – you never know."
Now that he's been elected, Strickland must tackle the issues that plague the city and Zone 2.
"We have to bring attention to the neglected parts of Zone 2, including the beachside and mainland. It's time that those aeras of our city get the attention that they deserve," Strickland said.
Strickland, 70, wants transparency and accountability in City Hall, improvements for Votran and infrastructure, including flooding, lighting, streets and sidewalks in both Midtown and beachside.
McDermott, 70, is a retired vice president for Intercoastal Bank. A graduate of Seabreeze High School, McDermott supports local business, safe streets and quality services. 
Low turnout
The Zone 2 seat became available after the city commission voted for a special election in October to replace Aaron Delgado, who stepped down in July after purchasing a home in another part of the city.
During the primary in September, Strickland edged McDermott by 13 votes, but neither got the 50-plus one percentage setting a runoff. Tony Servance and Kristine Gray were also candidates in the primary.
Turnout in the runoff was low, just like during the primary. Only 1,452 voters casted ballots out of 6,800 eligible voters in Zone 2. In the primary, only 1,084 voted.
Voting locations for the Zone 2 special election were at Precinct #607, Schnebly Recreation Center, and Precinct #619, Allen Chape A.M.E. Church.