During Daytona walking tour, Feacher cites ways that the city can improve life for residents and bolster businesses.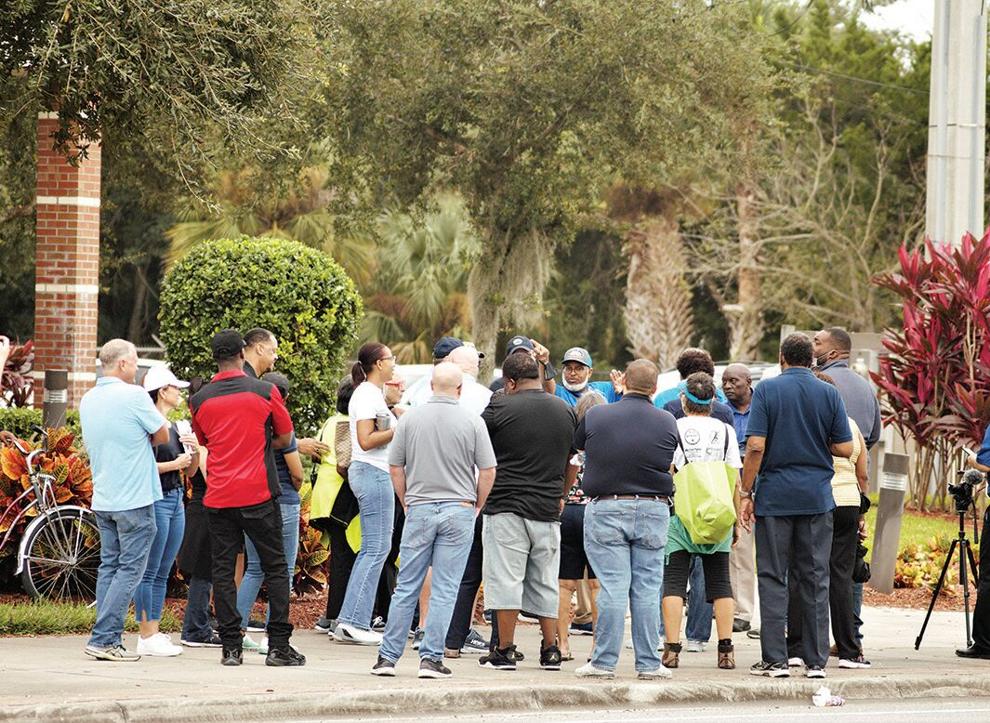 Daytona Beach City Manager Deric Feacher is leading city staffers on walks through local streets and neighborhoods.
On Wednesday, they walked through the beachside community along Main Street, Atlantic Avenue, Oak Street and others.
The city walking tour kicked off on Nov. 4 through Midtown, including parts of Dr. Martin Luther King, Jr. Boulevard and Dr. Mary McLeod Bethune Boulevard.
The purpose of the walk is to improve the quality of life for residents and businesses, Feacher explained.
"I want to make Daytona Beach the community of choice," said Feacher.
"I want this to be a place where people want to work, live, play, go to school, vacation, have events and more."
Another on Nov. 18
Accompanying the city manager are key staff members who are helping to identify where businesses can grow, locate code issues and discuss how the city can best position itself as a destination of choice. The team will provide feedback from their professional perspective.
"We need to get from saying 'No' to finding a way to say 'Yes,'Feacher said." We are also looking at our code to see if it is working and where it needs to be. We are also looking to see if it is hurting business." 
A final walk is scheduled for Nov. 18. It will be a riding tour, but some walking will occur.
'A good idea'
Many residents in the Midtown area were skeptical, unaware and surprised about the walk at first, but warmed up to it.
Business and property owners who live in Midtown are hopeful.
"The walk was fine. We did see some things and were able to point out some others," said Patricia Heard, who owns Second Avenue Plaza on Dr. Mary McLeod Bethune Boulevard. "However, we didn't get to walk all of the areas. It's a good idea. I hope the city will follow up and make improvements.''
Steve Miller, also a local resident and business owner, had a more positive viewpoint.
"The walk was fantastic. I am impressed. This has never been done before. Nobody has ever walked this neighborhood. I am hopeful that the mood and makeup of the community and city is changed," said Miller.
More walks urged
Irvin White owns commercial and residential property all across town, including in Midtown on Martin Luther King, Jr. and Dr. Mary McLeod Bethune boulevards.
"It's well overdue. It's crucial for a whole lot of people who work for the city that don't see our neighborhoods on the regular. They should probably do this at least twice a year," emphasized White.
"Hopefully, they will relax some of the zoning restrictions they imposed on us over the past 10 years. They have really limited what we could do and how we can make a living. They aren't putting any more commercial zones in our areas. We can't afford to go to A1A and other areas to do business,'' White added.
The tour also mentioned the history of the area, including buildings, places and people like Bethune-Cookman University, the Campbell Motel, Joe Harris Park, Dr. Mary McLeod Bethune, Jackie Robinson and Joe Harris.
More eateries, entertainment
During the tour, Feacher stopped at Black-owned restaurants and eateries such as Chef Counts Sous Chef Kitchen and the newly open Midtown Café.
"Come here and eat at these businesses and show your support," Feacher told his staff and community members.
Feacher mentioned bringing more events to town, including sports and entertainment.
He emphasized, "We want Bethune-Cookman, Daytona State and Embry-Riddle's conferences to have their athletic championships here. We want the high school championships. We want concerts here at Municipal Stadium, the Bandshell, Peabody and more."
Feacher also mentioned providing more eateries and activities for the 44,000 students in the city limits that attend the colleges and universities –Bethune-Cookman University, Daytona State College and Embry-Riddle Aeronautical University.
"The students should not have to go anywhere. We should have places near the schools that they can walk to and hang out, eat, buy goods and be entertained," stressed Feacher.
"We actually need to have it where residents don't have to drive but can walk and enjoy a drink, meal, shop or be entertained."
Fees waived
The city has already waived fees for building permits and inspection fees in the places between Mason Avenue, Nova Road, Ridgewood Avenue and Shady Place.
There is also a grant program offering up to $10,000 to those who property owners develop and upgrade.
Also, during the tour, Feacher mentioned how the commission has approved more than $4 million in road construction projects.
The city manager said that he plans to walk throughout the the city to see what the people's needs are and how he can meet them.