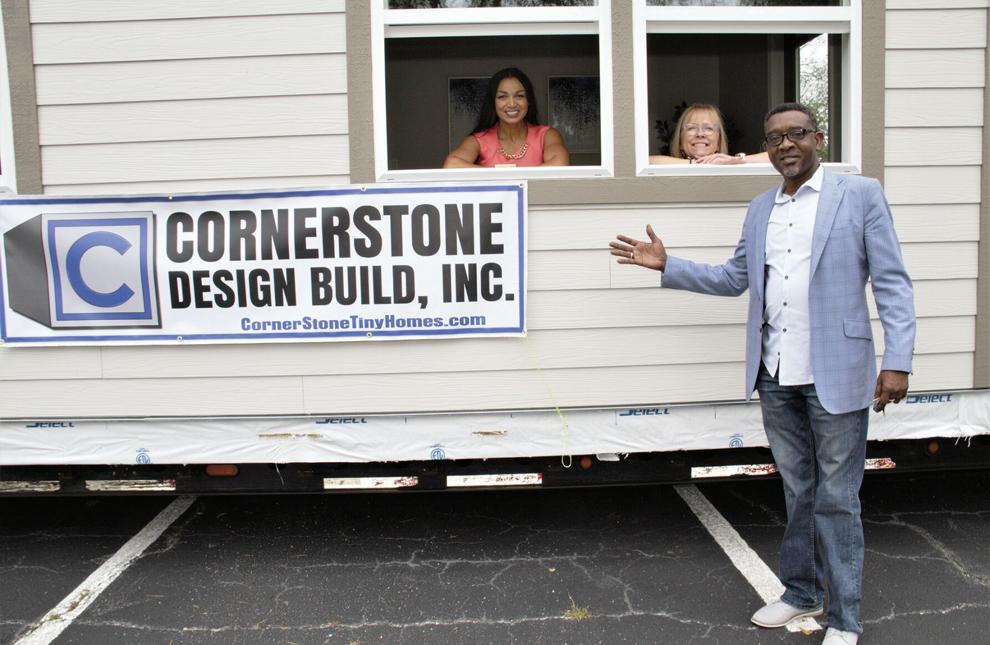 On Nov. 4, Allen Chapel AME Church was the site of two live events advocating affordable housing and financial empowerment.
The church co-sponsored delivery and inspection of an actual residential home on its parking lot, as well as the appearance of Fifth Third Bank's Financial Empowerment Mobile, essentially a financial education classroom on wheels.
Daytona Beach Zone 3 City Commissioner Quanita May was a sponsor of the tiny home appearance. The building was trucked via 18-wheeler from Longwood – just north of Orlando – where it was manufactured by Cornerstone Design Build, Inc.
'Experience it'
"The turnout at the tiny home event was overwhelming," exclaimed May. "My concept was to bring a tiny home to Daytona Beach and have residents experience it, move about in it, and imagine themselves living in a tiny home community. At this point, the residents must weigh in and let the commission know if this is an idea that they embrace."
Cornerstone Design Build is a family-run business located in Longwood, just north of Orlando. Chief Executive Officer Brett Hiltbrand is a Florida state-licensed building contractor and has more than 30 years of building experience.  His wife Kim, the chief operating officer, is an interior designer specializing in guiding clients through material and equipment selections for their tiny homes. 
Smaller than average
The homes are called "tiny" because they are a fraction of the size of a typical American home, which averages 1,500 square feet or more.
The homes Cornerstone builds like the Denali model that was delivered to Allen Chapel are available either with 360 square feet or with 432 square feet of livable interior space.  
It's built to the Florida Building Code, can be placed and secured to a concrete foundation, and features a one-bedroom, one-bathroom layout with a combination washer/ dryer unit. There is room in the kitchen for a dish- washer. The eat-at-counter accommodates 3-4 guests. The bathroom includes a full-size bathtub, which could be customized for a roll-in shower or smaller shower. 
Prices start at $79,000. The final cost will vary depending on finish, fixture, and appliance selections. 
According to May, the city must re-evaluate its zoning requirements if tiny homes can be legally constructed here, including changes to the minimum square footage allowed for a residential home. In Daytona Beach, homes must be a minimum of 900 square feet to be approved. 
A housing option
Lucy Stewart Desmore, a broker associate with co-sponsor EXP Realty and the Housing Opportunities chairperson for the Daytona Beach Area Association of Realtors, was also enthusiastic about the tiny home's appearance and the option it gives prospective homeowners.
"The event was excellent," she said. "It was very well-received by the community and government officials. It will give us a jumpstart into more affordable housing in our community.
"Many people can qualify for lesser amounts for their loan amount and still receive down payment assistance. (Tiny homes) would be a great help to folks who can't do the traditional purchase."
May agreed.
"We have been speaking about various housing options, and this was an option we had not yet explored and the community had not yet experienced. I look forward to hearing feedback from the mayor, city manager, and staff as well as the residents.
"The city's goal is to provide multiple housing opportunities, from rentals to ownership. My focus is home ownership for as many people as possible in multiple forms."
Allen: 'Community engagement'
For Allen Chapel AME Pastor Rev. Dr. Nathan Mugala, the affordable housing and financial empowerment events were all about community engagement.
"As a church, we have the responsibility to be engaged in the community and to try, as much as possible, to meet the needs of the people in the community," he explained.
"The (housing) event was beyond our expectations," he stated. "We have a lot of people who showed up, and I heard so many positive things about that being an option.
"We are dealing with a lot of problems with housing, and people are looking for affordable housing. I think that's a great idea, and I hope the city of Daytona Beach will take a look at that seriously."
Mugala said he really liked the home.
"I was impressed. Looking at it from the outside, it looked much smaller. But go inside, and I got in that space...If I had to, I would move into a space like that."
Mid Florida Housing sponsored the Fifth Third Bank Financial Empowerment Mobile which allowed visitors to view their credit reports, learn how to pay bills online, use financial decision tools, under- stand fraud awareness and prevention, and get information on home owner- ship seminars and avoiding foreclosure.
For more info on tiny homes, go to https://www.cornerstonetinyhomes.com/.