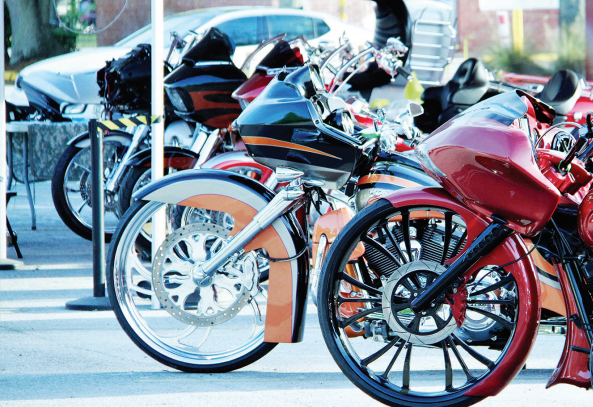 The area is preparing for Biketoberfest, an event that brings an estimated 125,000 bikers to the area and an estimated $16 million economic boost.
Biketoberfest is smaller than Bike Week, which occurs in March and brings an estimated 500,000 bikers and estimated economic impact of $600 million. But, Biketoberfest has been kind to the area, including Daytona Beach's Black community.
This year Biketoberfest will take place Oct. 13 to 16.
Historically, the hub of biker activity in Daytona's Black community occurs on Dr. Mary McLeod Bethune Boulevard between the railroad tracks and the intersection of Dr. Martin Luther King Jr. Boulevard.
The Second Avenue Merchants Association (SAMA), a non-profit that organizes most of the events and activities on the avenue, did not respond for comment as of Daytona Times deadline.
Patricia Heard owns Second Avenue Plaza at 560 Dr. Mary McLeod Bethune Blvd. at the corner with Green St. Currently, a gift shop and A Golden Taste of Jamaica restaurant occupy the plaza.
Second Avenue Plaza isn't a part of SAMA, but it also rents out space to vendors during Biketoberfest and Bike Week.
"Things aren't quite together yet, but we're going to be open and are hoping that vendors come," Heard said.
COVID losses
Many businesses are still feeling the sting of 2020 when the coronavirus shut down Bike Week on Saturday, the final and busiest day of the event. Those effects also hit Biketoberfest last year and Bike Week this year.
"I'm in the hole with the amount of money that the city charges for permits and the use of property," Heard said.
"I gave vendors part of their money back during Bike Week 2020. How can we charge people as much when they are still struggling to get here and pay their vendor fees? Many aren't sure they will make their money back."
Meanwhile, local businesses are welcoming Biketoberfest and its potential economic boost.
Midtown Café, located at 536 Dr. Mary McLeod Bethune Blvd. at the corner of Walnut Street, opened last week just in time for Biketoberfest.
Owner Karen Eagar told the Daytona Times, "We are looking forward to Homecoming, Biketoberfest and all the events. We are also looking forward to revitalizing the area and bringing more guests and tourists here to enjoy Midtown."
Darren Rogers runs D&I Seafood Plus, a food truck based out of DeLand, and is a longtime staple at both Bike Week and Biketoberfest. Rogers and other vendors are paying attention to the ongoing coronavirus pandemic.
"I didn't do any events last year until I got my vaccine in February," he said. "I'll be there with mask, shield, sanitizer and more."
Eager echoed, "We will be following the health guidelines set forth by health care agencies and authorities."
In recent years, Bruce McNorton's C-29 Social Club at 551 Dr. Mary McLeod Bethune Blvd., was one of few establishments that could sell alcohol in the vicinity.
The establishment isn't officially open but has been able to do private gatherings.
"We're getting the place ready for Biketoberfest," McNorton said. "Hoping to be able to get the permit to sell alcohol as well. It's up in the air right now."
Bike clubs gear up
Meanwhile, the Daytona Beach based Sunchasers Motorcycle Club is also gearing up for Biketoberfest.
Members will open up the Biarritz at 309 Pearl Street, adjacent to Joe Harris Park (aka Harlem Park), for Biketoberfest with music, drinks and food.
The club will be one of the few establishments in the vicinity that can sell alcohol.
"It should be exciting. We're getting ready. We'll have the Biarritz open," said Sunchasers Spokesman Leroy "Bo Pete" Robinson, better known as Cowboy. "We will also have our other fellowshipping, brotherhood and usual events going on."
Bikers are planning to take precautions with the ongoing COVID-19 pandemic.
"We will still have the sanitizer and masks. We'll also have to disinfect," Robinson said. "We will serve drinks inside but do our best to have people outside and spread out."