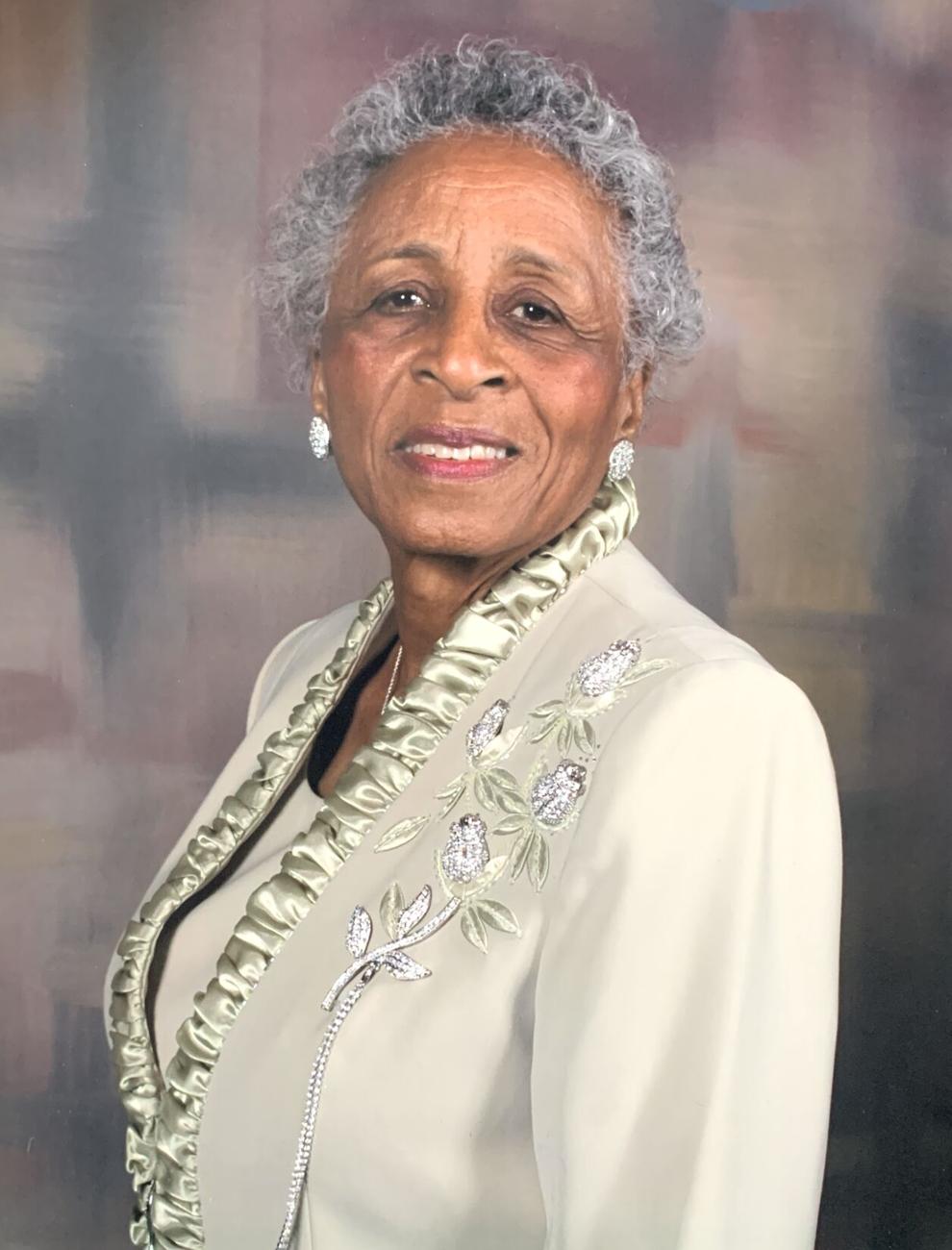 DAYTONA BEACH – Julia Mae Troutman Cherry, a retired teacher, organizational activist, church mother, and business owner who took over Florida's largest Black-owned media company in 2004 after the death of her husband, died on Sunday, April 24, at her Daytona Beach home. She was 94.
She was born in Leslie, Georgia on Nov. 16, 1927, to Willis Troutman and Emma Mae Harris Troutman, the second of two girls. Her sister, Bobbie Rose Troutman, was five years older.
Mrs. Cherry was a tiny infant who arrived two months before her due date in a small town without a hospital that accepted pregnant Black women.
"I was quickly given a name – Julia Mae Troutman, after my grandmother, Julia Harris – because my parents thought I would not live," she said at her 80th birthday party in 2007.  "I was so small that Mama said that I looked like 'a little rat.'"
"My parents laid me in their bed and waited for me to go to 'Baby Heaven.' But I didn't die, because God had a plan for my life."
Sudden tragedy
Mrs. Cherry's father Willis was a master carpenter and the only Black barber in her hometown.  Her mother was the only licensed beautician there. With two working parents, her early life was relatively comfortable. At the sudden death of her father when she was just six years old, the family's financial fortunes changed.
"Mama worked hard and raised me and Bobbie on her own after Daddy died," she remembered. "She was determined that neither Bobbie nor I would be destined to a life of picking cotton; she was determined that her daughters would get an education. She said that her girls 'would never be under the feet of any man.'"
Big sister was mentor
Mrs. Cherry said that her sister Bobbie was a major influence in her life.
"She was a beautiful, intelligent, loving sister. She instilled in me at an early age an interest in getting an education. She was the first Black person from our hometown to attend a private elementary school, to complete high school, and to receive a college education.  I was expected to follow her lead."
Mrs. Cherry attended Zion Hill Elementary School in Desoto, then Staley High School in Americus, Georgia, where she played basketball and was elected Miss Staley High 1944. While at Staley High, she met a young Charles W. Cherry, Sr., an Americus native. He graduated from Morehouse College in 1949, then served in the U.S. Army from 1950 to 1952 during the Korean Conflict. The two were married on May 18, 1953.  
Career in education
Mrs. Cherry attended Morris Brown College in Atlanta, where she earned a Bachelor of Science degree in Home Economics with a minor in Chemistry in 1955. After a brief stay with her new husband who had taken a job at Claflin College in Orangeburg, S.C., the young couple moved to Daytona Beach in late 1955. At then-Bethune-Cookman College, Mrs. Cherry earned a teaching certificate in Elementary Education and served as Assistant Counselor of Women.
After the birth of her three children, Mrs. Cherry began her teaching career in 1963 at Campbell Elementary School, Daytona Beach's high-performing, all-Black elementary school.
Like many Southern public school systems, the Volusia County School Board viciously fought to keep its schools racially separated after the U.S. Supreme Court's famous 1954 Brown vs. Board of Education decision outlawing racial segregation in America's public schools.
In 1969, Campbell Elementary was closed permanently. Mrs. Cherry, along with Campbell's other Black faculty and staff, was scattered among predominantly White public schools. She landed at Osceola Elementary in Ormond Beach and worked as a teacher for 25 years in Volusia County. During her teaching career, she taught hundreds of fourth and sixth graders.
Survived violent threats
Mrs. Cherry was not just a working mother. She also "kept the home fires burning" during her husband's 50-year career as a civil rights activist, NAACP local branch president, state president, and national board member, entrepreneur, and elected official.
She ignored the constant death threats against the family – including a cross burned in their home's front yard – and made sure Charles, Sr. had a home-cooked breakfast and dinner on real (not paper) plates whenever he left the family home in the morning or returned from protests and meetings at night.
Travel, church
After her retirement in 1994, she traveled extensively with her husband, children, relatives, and friends, and became active in local organizations, particularly Delta Sigma Theta Sorority, Inc. and the Bethune-Cookman University Women's Advisory Board. She was a life member of her sorority, a founding member of the DeLand, Fla. Alumnae Chapter, and a Golden Heritage Life Member of the NAACP.
Her international travel included Great Britain, Germany, Switzerland, France, Côte d'Ivoire, Egypt, Turkey, Senegal, Canada, and various Caribbean islands.
Mrs. Cherry had been baptized as a child at Zion Hill Baptist Church in Desoto, Georgia, and continued church membership throughout her life. She joined Daytona Beach's Hope Fellowship Church in 1995, sang in the Senior Choir, was designated a church mother, and remained a faithful member until her death.
One of her favorite church activities was a class she taught with other church mothers giving younger women advice on marriage, relationships, child-rearing, careers, proper etiquette, and homemaking.
Decision time
When Charles W. Cherry, Sr. died on Nov. 16, 2004 – Mrs. Cherry's 77th birthday – she had to make a crucial business decision.
At the time, the Cherry family-owned media group was one of the largest private Black-owned media companies in America, with 12 radio stations and two weekly newspapers spread across three states.
Mrs. Cherry had to decide whether to continue the plan to expand one of the local newspapers, the Florida Courier, and distribute it statewide. After prayer and discussion, she decided to invest her personal assets into the expansion project.
With her financial support, the Florida Courier launched statewide in March 2006. Some 16 years later, it continues to thrive. She remained the managing member in charge of the family-owned media company, now including two radio stations and two newspapers, until her death.
List of survivors
Julia T. Cherry is survived by three children: Charles W. Cherry II; Dr. Glenn W. Cherry (Valerie); and Cassandra Cherry Kittles (Willie); three grandchildren, Jamal M. Cherry (Sierra), Chayla C. Cherry, and Charles W. Cherry III; four nieces and nephews: Dr. Roslyn Harper, Dr. Charlyn Harper Browne, Rev. Dr. Charles A. Harper III (Evelyn), and Althea Harper; grand-nieces Bobbi A. Monroe, Charles A. Harper IV, Dr. Keri Harper, Dr. Erin Harper (Benny), Rembert Browne II (Andrea); great-grand nephews Charles A. Harper V, Cole Williams, Bennie Harper Walk, and Chandler Harper; relatives in the Troutman, Barlow and Harper families, including Andrew Collins, Wendi R. Harper, Eugene Monroe, Jr., Stanley Monts, Mildred Roberson, and Darnell Troutman; caregivers Connie Stokes, Peggy Cooper and Gail Morgan; and dozens of close, devoted friends, including Lerosa Dixon. As an informal African-style "queen mother," she had too many "adopted" sons, daughters, nieces and nephews to count and list here.
She is pre-deceased by her husband of 52 years, Charles W. Cherry, Sr., as well as her mother, father, sister, and brother-in law, Charles A. Harper, Jr., and granddaughter Chip Happy Cherry. 
Services and burial
A viewing will take place on Tuesday, May 3 from 5 p.m. to 8 p.m. at Hope Fellowship Church, 869 Derbyshire Road, Daytona Beach, FL 32117.  An Omega Omega Service of Delta Sigma Theta Sorority, Inc., will begin at 7:00 p.m. and is open to the public.
A Celebration of Life Service will be held on Wednesday, May 4, at 11 a.m. at Allen Chapel African Methodist Episcopal Church, 580 George W. Engram Blvd., Daytona Beach, FL 32114.
Covid protocols (masks, social distancing) will be in place. Both services will be live-streamed on YouTube. At the service times, check the Florida Courier website, https://www.flcourier.com/, to watch the services online.
R.J. Gainous Funeral Home, Daytona Beach, is in charge of arrangements, phone (386) 253-7686. Interment will be at Greenwood Cemetery.
In lieu of flowers and other tributes, the family requests that donations be made to the Morehouse College Alumni Chapter of Omega Men, a 501(c)(3) non-profit organization that provides scholarships for HBCU students. CashApp: $MorehouseAlumniQues   Venmo: @MorehouseAlumniQues PayPal: morehousealumniques@gmail.com