The first Black woman elected to the Daytona Beach City Commission and Volusia County Council dies at age 95.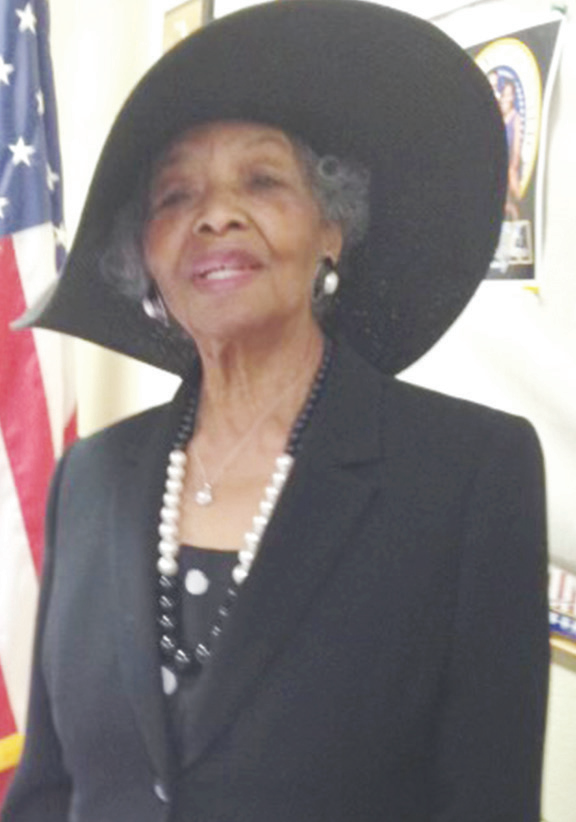 Daytona Beach and Volusia County are mourning the April 12 passing of Mrs. Freddye Clay Moore, a former Daytona Beach city commissioner, former Volusia County councilwoman and a retired educator. She was 95 years old. 
A funeral service was held on 11 a.m. Saturday, April 22 at Mt. Bethel Baptist Institutional Church. 
The Rev. Eugene Hudson, the church's pastor, delivered the eulogy. Interment  was at Daytona Memorial Park North following the service.
Those who knew her the most will miss her the most.
Her daughter Brenda Moore told the Daytona Times, "I'll just miss sitting next to her and talking to her. Just listening to her stories, her experiences, the places she's been and the things that she has done."
Throughout her life, Moore saw her mother impact the lives of many.
"My mother was a loving mother. She loved children. She could talk with anybody. Anybody who talked to her would love her by the time they left her presence," expressed Moore.
"She was an educator at heart. She encouraged others to read. Her mother was also a teacher and Mom helped her mother grade papers at the age of 16. He favorite quote was, 'A day is not wasted if you learned one thing.'"
Made city, council history
Mrs. Freddye Clay Moore was born May 16, 1927, in Arcola, Mississippi, to Joseph Clay and Emma Johnson.
Mrs. Moore made history when she became the first Black woman elected to the Daytona Beach City Commission in 1984. She was elected to fill the seat left vacant following the death of her husband, Andrew J. Moore, Sr. She served as a city commissioner until 1992.
She was elected to the Volusia County Council in 1995 and made history again by being the first Black woman to be elected Volusia County Council chairperson in 1998. She served on the county council until her retirement in 1998.
"I am very proud of that. I knew she could do it. She was the type of person that once she set her mind to doing something she would accomplish it," said Brenda Moore.
Career and community involvement
Freddye Clay began her education at Arcola Elementary School and eventually graduated from Booker T. Washington High School in Memphis, Tennessee.
She earned a Bachelor of Science degree in Elementary Education from Tougaloo College in Mississippi in 1949 and her Master of Science degree in Education from Stetson University in DeLand in 1978.
Her teaching career began at Moore Elementary School in Glen Allan, Mississippi.
In 1960, she moved to Daytona Beach and began teaching English at Campbell Junior High School. She later taught at Seabreeze Junior High and Silver Sands Middle School, where she taught reading. Mrs. Moore later became an administrator, a role she continued until retirement in 1998.
Mrs. Moore was a member of Mount Bethel Baptist Institutional Church where she served as a member of the Deaconess Board and Board of Trustees.
She was a Golden Life Member of Delta Sigma Theta Sorority, Inc.; a member of the Pilot Club of Daytona Beach, Bethune-Cookman University's Women's Advisory Board; NAACP; and the National Council of Negro Women.
Mrs. Moore received numerous awards, including the Governor's "Points of Light" Award in 1997 and the National Association of Counties Achievement Award in 1998.
She was preceded in death by her husband, Andrew J. Moore, Sr.; son, Andrew J. Moore, Jr.; and daughter, Karen D. Moore. She is survived by her daughter, Brenda J. Moore of Daytona Beach; son, Joseph L. Moore
(Christine) of Atlanta; five grandchildren: Guysen Bohler of Ocoee; Andrea Moore; Alayna Moore; Joshua Moore and Lauren Moore, all of Atlanta; three great grandchildren; and many other relatives.
The family is requesting that in lieu of flowers, contributions be made in the name of Freddye C. Moore to the Mt. Bethel Baptist Institutional Church Youth Ministry.