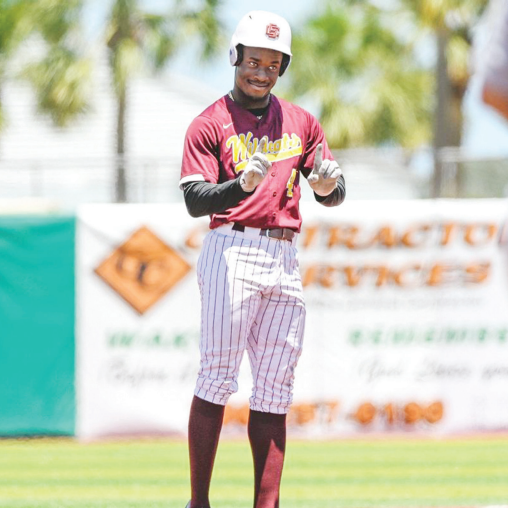 Bethune-Cookman's baseball team (27-23) took two of three games from rival Florida A&M (24-25) in Tallahassee from May 12-14.
The Wildcats won the first two games 13-4 and 11-6.
The Rattlers won the finale 5-4 in 10 innings on Sunday.
Hyland Hall (10-for-15, 7 runs, 4 RBIs); Manny Souffrain (7-for12, one run, 7 RBIs) and Luis Tuero (6-for13, 3runs 2 RBIs) led the Wildcats offensively.
Nolan Santos (1 win, 7IP, 2R, 5H, 10SO); Danile Gaviria (1 win, 6IP, 4SO), Santiago Gomez (5IP, 4R, 3ER) and Dale Michaud (3IP, 1H, 2K, 0R) pitched well.
B-CU is 18-8 in the SWAC East Division, which has them in second place and in position to clinch the Division's No. 2 for the SWAC tournament, which will be played May 24-28 at Russ Chandler Stadium in Atlanta.
The Cats lead FAMU (17-10) by a game and a half.
Alabama State (21-3) won the division and top seed for the SWAC tournament.
B-CU played at UCF on Tuesday, which was after the Daytona Times' deadline.
They host Jackson State (28-21, 12-15) at Jackie Robinson Ballpark May 18-20 to close the regular season.
On the mound, Gavira (5-3, 3.84ERA) and Santos (6-3, 3.69ERA, 113SO, 78IP) anchor the rotation while Gonzalez (4-2, 3.70ERA, 6 saves) leads the bullpen for B-CU.
Hall (.376BA, 4HR, 43RBI, 68H, 50R), Robert Moya (.333, 7HR, 41RBI, 45R) and Tuero (.356BA, 23RBI, 58H) pace Wildcats offense.
They also have Garrett Chun (.294BA, 16RBI, 50H, 41R), Boris Pena (.288BA, 3HR, 34 RBIs), Jeremy Garcia (.267, 1HR, 28 RBIs), Irvin Escobar (.293, 3HR, 23 RBIs), Colton Olasin (.324BA, 1HR, 18 RBIs), Souffrain (.300BA, 3HR, 21RBI); Jorge Braceras (.3141HR, 17RBI) and others.
Moya has reached base in 32 consecutive games and Santos has 113 strikeouts which ties a school record he set last season.
For more information on Bethune-Cookman University Athletics, visit www.bcuathletics.com.