Popular host to convene town hall meeting in Daytona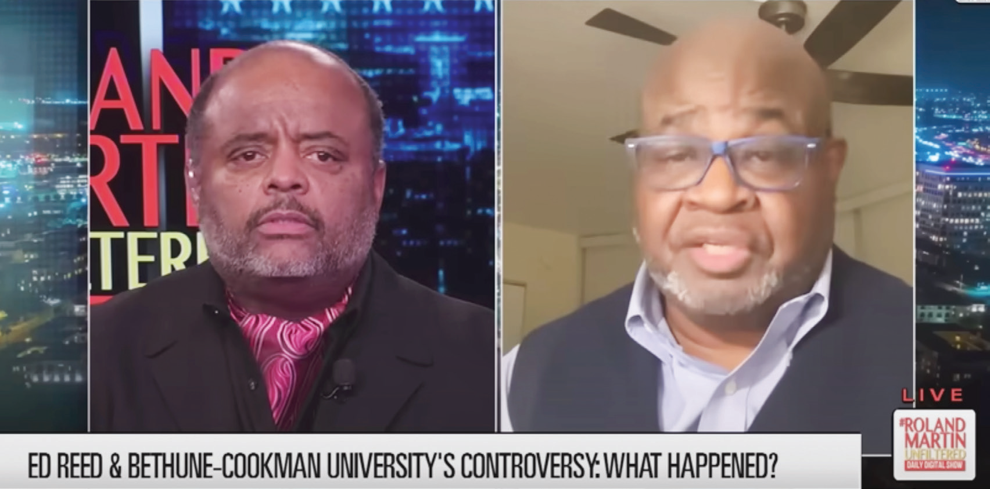 True to a commitment he made last week in the wake of the Ed Reed saga at Bethune-CookmanUniversity (B-CU), popular Black journalist Roland Martin will come to Daytona on Friday for a town hall meeting to air concerns of the university's students.
His "Roland Martin Unfiltered" show will air live in Daytona Beach on Friday, Feb. 3 from 6 p.m. to 8 p.m. at Hope Fellowship Church, located at 849 Derbyshire Road. Doors open to the public at 5 p.m.
Black Floridians from as far away as Miami-Dade County – 250 miles from Daytona Beach – indicated they may attend to support the students.
Telling students' stories
Martin decided to bring his show to town after covering student protests at B-CU last week where students protested living conditions at the Historically Black College & University that sits in the heart of Daytona Beach.
Students appeared on the Martin show and spoke out about living conditions such as mold and mildew in the dorms, bad food in the cafeteria, having to sign non-disclosure agreements, fear of retaliation from the school's leadership, and more.
Many students also spoke out in support of Reed, a National Football League Hall of Famer. The school decided not to hire him as its head coach after he criticized B-CU's leadership in angry social posts for allowing inadequate facilities such as no locker room and showers, a dilapidated practice field, and inadequate training facilities.
Protests began right after the university made it clear that Reed would not be hired and that a new search was underway. 
Football players also appeared on Martin's show last week in support of Reed and spoke of dorm conditions and even sharing helmets during games last season.
President interviewed
Interim B-CU president Lawrence Drake was interviewed on Martin's show on Jan. 23 following on-campus student protests that dominated the program.
Drake denied that football players did not have lockers and showers and were washing their own football uniforms and said that he would be pleased to allow Martin to bring his cameras on campus.
Martin, who will be in Florida to receive an award from the Trayvon Martin Foundation, said that he would be available on Feb. 2 or 3 for a town hall meeting in Daytona Beach and would visit the B-CU campus on one of those dates. Drake seemed to agree to the town hall meeting on campus, but without the presence of the university's board of trustees.
"Come down and visit. I'll show you," he told Martin.
Upon further review...
Days later, B-CU rescinded the invitation in writing and refused Martin's request to have a town hall meeting on campus.
B-CU Board of Trustees Chairman Belvin Perry, Jr. also was invited to comment on Martin's show but refused, saying, "I will not come on with Roland Martin, who has been telling a one-sided story with students who have been put up to this by Charles W. Cherry II, a disbarred attorney, and Johnny McCray Jr., who was president of the old alumni association. I'm done, goodbye."
Cherry is not a disbarred attorney. A review of his Florida Bar profile lists him as "Retired" since 2020. McCray is the president of the former Bethune-Cookman University National Alumni Association – now the Dr. Mary McLeod Bethune National Alumni Association – that was sued by the university and is currently in litigation.
Martin's YouTube news channel, "Roland Martin Unfiltered," has more than 1 million subscribers. His upcoming appearance in Daytona Beach has resulted in its own local drama.
Blocked out?
Local organizers say they thought that the Julia T. and Charles W. Cherry, Sr. Cultural & Educational Center was the ideal location for the town hall meeting due to its seating capacity, its proximity to the B-CU campus, and plenty of parking for what is expected to be a large crowd.
However, the City of Daytona Beach would not waive its advance notice requirement for Martin's event, which meant that no city facility would be available.
The event was then scheduled to take place at Greater Friendship Missionary Baptist Church at 539 George W. Engram Blvd., but the church's board reversed itself and rescinded its invitation to allow the town hall meeting there.
Bishop Derrick Triplett, Hope Fellowship's pastor, made his church available for the town hall meeting. That's where it will be held.